Letters 1941 - 1951
Henry and Esperanza pretty much went through all the phases - Love, Drama, Loss, Hope. These letters are from June 1941 to her death in 1951 and include three by B. Traven. Two of these writing as Hal Croves, notifying Henry of her death. Henry went to Mexico in June 1940 to act as a bodyguard for Leon Trotsky. He was there the day Trotsky was killed in August, and stayed on to help Natalia Trotsky. He met Esperanza when he went to the Dept of Education looking for a schedule of summer classes for his friend Elda Patton who was in Mexico City. He forgot about Elda and started dating Esperanza. It soon became serious, both in a good and bad way, and for 18 months they lived less than 2 miles apart, an easy walk for 30 year olds. Henry kept a notebook of his daily activities. Shortly before his dramatic exit from Mexico in late Jan 1943, Henry made a list of all the times they met, exactly 150 to that point, where they went and what they did. When they were not arguing they had no reason to write letters. Early on they searched for an apartment, but Henry could not afford that. He fixed up some place and referred to it as "Home" in his list. It was probably a room at Franz Pfemfert's photography studio. They used the Trotsky compound but not often. Once when Henry openly tried to coordinate work shifts and explained it was to see Esp at the compound, it caused a problem, but it was eventually okayed.
Included in their 150 sightings, they went on hikes, he met her family members and visited her house routinely. Esperanza gave him Spanish lessons. They liked to go to American movies. There was a lot of drama and a lot of making up.
Henry leaves Mexico unwillingly with great sadness in late Jan 1943. He goes to Chicago, gets work in a shipyard, then gets drafted into the Army. He stays stateside several months then ships to Europe early '44. He is assigned to a machinery support unit, so does not see actual fighting but is just behind it. After the war he is stationed in Nuremberg decommissioning equipment. See his photos of the junkyards and the ruins. Discharged in April 1946, he returns to his home in Indiana, then goes to Mexico to see Esperanza. They visit an area near San Andres Tuxtla. Henry moves to New York City in summer of 1946 and gets a job as longshoreman on the dock. Esperanza visits him twice. The first trip was Jan-Feb 1947, probably their happiest month. The second trip in winter 47-48 she flew to New York, then Europe for an extended business trip for Traven, then back to New York.
Henry kept notes of the things that mattered to him. In the 41-43 period when his emotions were most acute, he documented their "wonderful visits" and wrote pages trying to mend the awful breakups. Esperanza was married, not like we usually think of it. The details are in the letters. But she was not free to go. And she did not want to. Even to the end she wanted Henry to visit her on occasions. That was not what Henry wanted. That was issue number one. Issue number two was politics. Esperanza's politics are a bit hard to determine.
In the period 41-43, from their arguments, it does not appear that Esperanza has a strong motivating political outlook. She has a lot to choose from. She is working with Lombardo Toledano, the chief Stalinist in the country. She is working with Traven, an iconoclast anarchist, and surely exerting his influence. She is dating Henry, a true believer in Marx and Trotsky. She is a woman of literature, art and nature, specifically mountaineering. She has, according to Henry, accused him of worshipping Marx. Henry replies that literature will not save the world, and this is World War Two, it surely needs saving. Stalin was advocating Socialism in one country. Other countries could wait. Trotsky advocated permanent worldwide revolution. Esperanza transcribed the speeches of Stalinists, but I doubt if she considered herself a Stalinist. She may have had no differences from the views of people who did. Other than supporting Stalin personally, being a Stalinist did not carry a heavy philosophical burden. But being a Trotskyist meant there was work to do and no time to waste, per Henry.
Its just a great dynamic story. I don't know if it has a point. I want to show how beautifully she writes in 1950-51, to give her photos back to Mexico from where they laid in an old farmhouse in Indiana these many years. Give back some of the details in the letters of her mountaineering. I want Traven's crazy brilliant letters to not be lost. I want Henry's Perceval-like Mexican adventure to be told and I think he does also.
The caveat is that probably more than half the letters from Esperanza are lost, especially certain years, and all of Henry's letters to her are lost except for a few drafts. Henry wrote at least three letters to B. Traven that are lost.
Some highlights -
B. Traven's 1946 letter to Henry is a doozy.
Esperanza's letters of 1950-1951 are heartbreaking and beautifully written
1941 June 24 - first letter from Esp - invitation to Las Peńas de las Hadas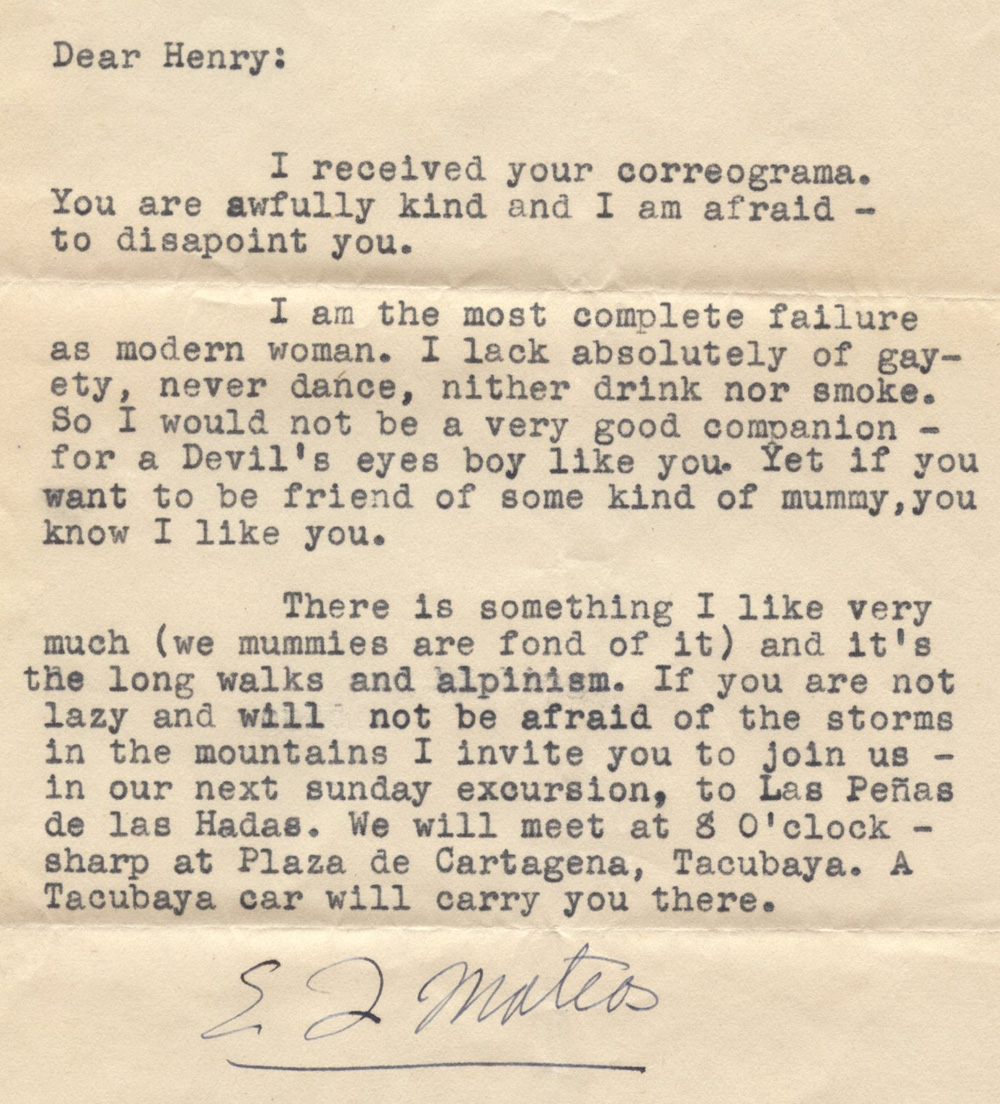 probably meant wreathed

---
1941 July 13 - The spell has been broken
This is breakup number #1 -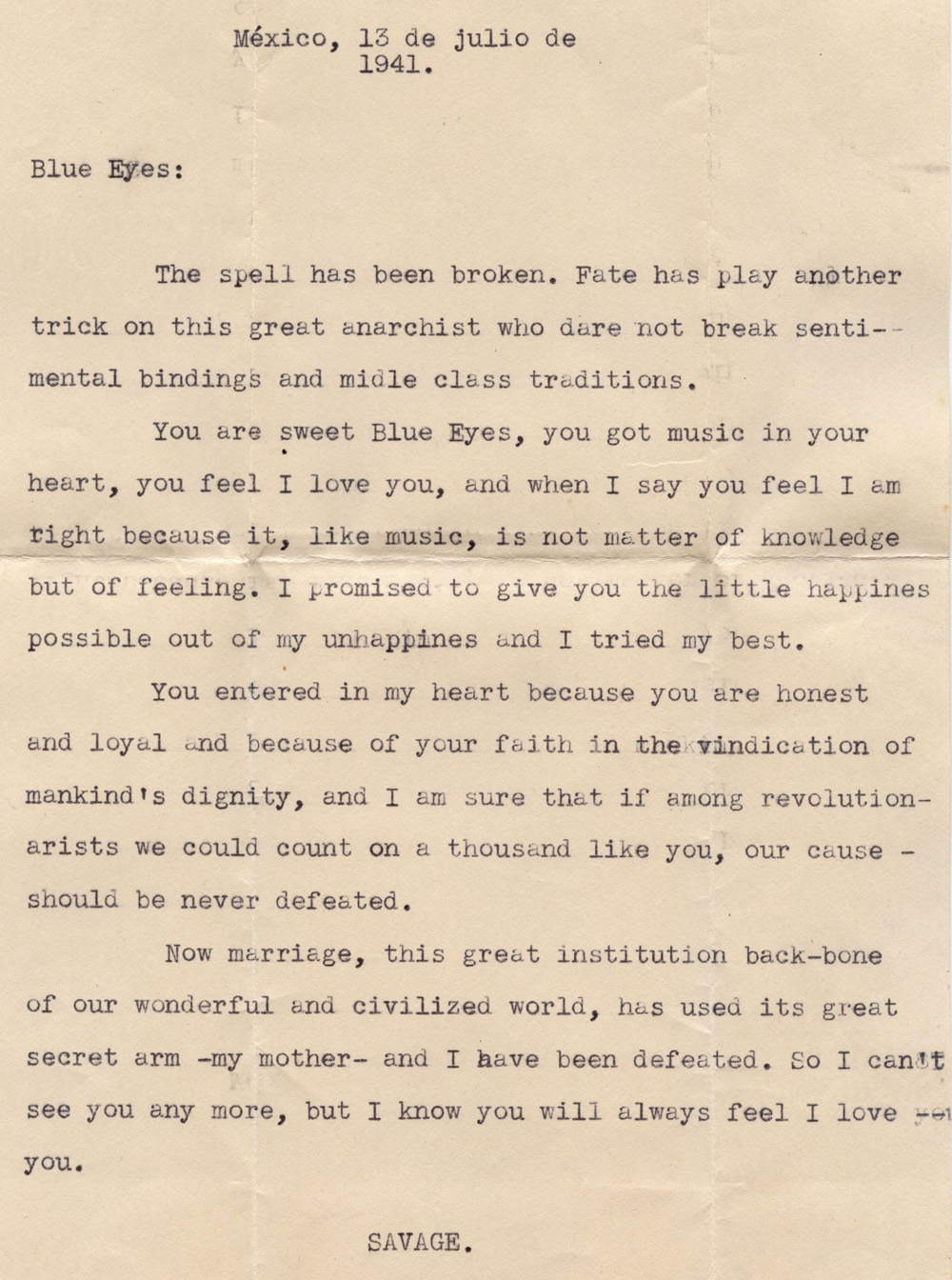 July 15, 1941 - Henry to Esp
Henry kept notes and drafts of letters he wrote to Esperanza, most of which he dated.
"You say now your mother has stepped into the fight against you and me. You knew that beforehand. You knew she opposed a divorce or a separation. You say, "I have been defeated. So I can't see you anymore." You dated that letter July 13. It was evidently written after 7:00 pm because I left about that time. If you were defeated between 7:00 and 12:00 the "secret arm – my mother" must have waged a real blitzkrieg" or you must have surrendered without a fight – in which case don't call it a defeat but capitulation."
"I should have enquired more into your personal life at the beginning because there are evidently several important episodes of which you have told me nothing which would help explain your present behavior."



1941 Aug 11 - Henry to sister Marie, first version of Esp childhood
Henry - Esperanza had "anarchist instead of Marxist ideas"
Henry - She just got paid for the two books she translated for Traven from English into Spanish.
Henry - Esperanza worked in the 1st hospital established in the W. Hemisphere (where bones of Cortez are hidden, Hospital de Jesus, estb. 1527 by Hernan Cortez) from the age of 14 to 17. Then 5 more years in English Hospital here. During the last 5 yrs she has worked in the Education Dept. In '34 she spent 6 mo. in N.Y. City studying hospital technique. Besides translating several dozen books she has contributed numerous articles to magazines and reviews and is writing a history of Mexico now.
While several dozen is surely a wild exaggeration, several times Henry referenced Esperanza writing original work, not just translating.
---
1941 ? - Esp to Henry - "for your sake, good by"
Undated but still in her English letters, so probably 1941. Breakup #2 -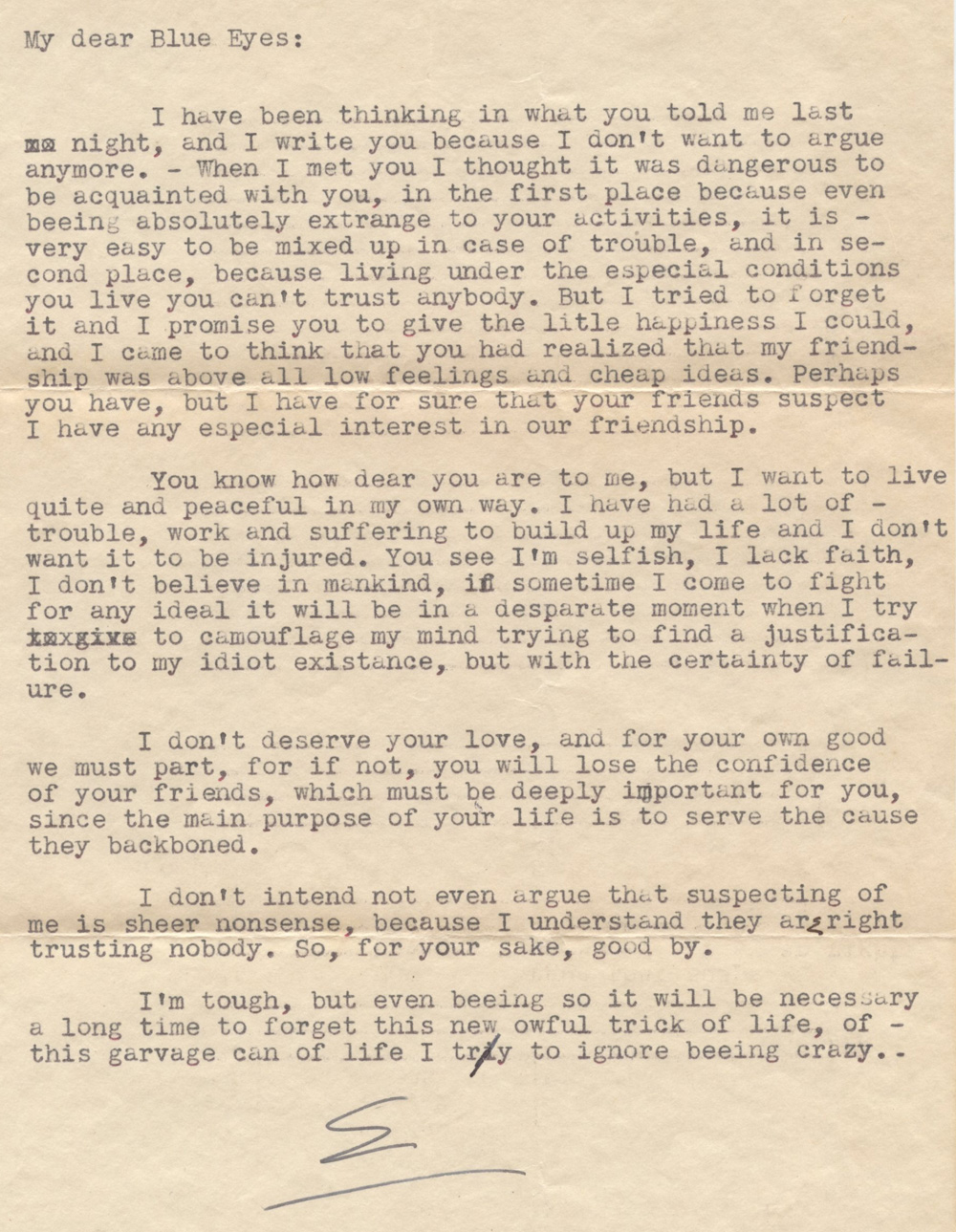 - Esperanza takes Henry on a climb up the mountain on Pearl Harbor Day.
1942 Jan 13 - Henry to sister Marie
Henry - Concerning your projected visit ... The rules of the house are that only party members stall over night. I didn't make them and I can't break them. When I told Esp you were coming she said "she'll have to stay with me."
1942 Jan 28 - Figueroa, Steinbeck, Ford, Traven
Henry to sister Marie - a brother (Figueroa) returned from Hollywood. Tried to sell Steinbeck and Ford the idea of filming a story of Mexico by Traven "The Bridge in the Forest". Steinbeck says art is great but doesn't pay - lost heavily on "Grapes of Wrath" - also "Forgotten Village." They're good, but public clamors for oomph. Esp has the Spanish translations for all of Traven's stuff and was expecting to do the scripts. Steinbeck says any story on Pancho Villa - with lots of love - would be accepted eyes shut."
1942 March 13 - Henry and Esp cut a record to send to Henry's folks
Henry wrote to Marie - "Esp was born Jan 8, same year as you (1913). Giving dates on woman's age has become military secret. The record apparently startled the folks - but it's just an announcement of intent, impossible to determine when or if we'll be spliced. Her occupation ... is secretary to chief of Editorial dept publico - which means that all books, texts, general articles, programs etc for whole public education system of nation goes thru that dept. And being a fool type who works conscientiously she does most of it herself. The boss is a political appointee who shuns work. Her fellow workers (I met them at a party at her house) postpone everything til manana. She doesn't dance or sing, and denies that she plays the piano - though others say she plays well. Today she went mountain climbing - to train scaling cliffs - carries hammer, special spikes to be driven in rocks, lots of rope, etc. Will shortly make a descent into the crater of popocatepetl - stay overnight. No woman member in 20 years of club's existence has made it.
---
1942 April 7 - Biggest battle to date - Henry wrote - draft of letter from Henry to Esp.
Breakup #3
Henry - The outbreak occurred Tuesday PM. You were saying, "I wish I could go home with you and stay with you all night," Then I, like an ass, said, "a sucker would believe that. I used to." You were justified in becoming very angry and deeply hurt. I was hurt because I hadn't seen you for 7 weeks and you had just told me it would be 3 weeks more until I could have another date. That led to a heated discussion of your family problem – why you can't see me more often. It ended with your declaration that your family meant more to you than your own life, love, future, etc. that settled the family question and left no room for doubt but in your anger you added further that that terminated your love for me, that you hated and despised me and wished never to see me again. You had changed in 15 minutes from deepest love to deepest hate.

Henry wrote to Marie - "Last Saturday Esp explored a cave - the largest in Mexico, known since 1650. Cave is huge but only 3.5 miles long - there the underground river disappears thru narrow low tunnel like gorge. No one had ever gone beyond. Esp and 8 men in swimming suits, equipment on back entered the river there. She went 1st, passed thru tunnel and signalled back to others. They took wonderful photos, travelled 16 hours, rested 3, were underground 19 hours in cold, wet bathing suits. no sleep, no food. Travelled about 25 miles."
1942 May 22 - Mexico enters into war with Germany
---
1942 May 26 - Esperanza to Henry - You go your way and let me go mine
Breakup #4
Saturday night (23rd) you insulted me again and became furious, forgetting the promises you had made to me. Your fanaticism drags you to conceive crazy ideas. When you have some domestic or political setback you react against me and pretend to hold me responsible for everything.
You say that I do nothing, without realizing that your attitudes are a hundred times more negative than mine. - Whenever I propose to you - that you read a book or that we work on something interesting, you tell me that you can't waste your time reading books, that you need to read newspapers and talk, talk, talk, while others work and struggle.
You can be quietly washing dishes, reading newspapers, getting up at nine in the morning and talking, while your mother is working herself to death, while your father is struggling alone and sick.
Once I had the weakness to forgive your follies, your selfishness, your lack of understanding, your rudeness, but I won't do it anymore, - I'm tired of it, that's enough. Just as you have strength enough to insult me, to try to demean all my efforts, you must have strength enough to do without me. Your tears will no longer move me, for I well know that you shed them easily, even for a cheesy movie.
We have not known how to be friends, but we will not part as enemies, I only beg you to leave me in peace, not to look for me to make one of those hateful scenes that you like so much, and not to write me long letters full of reproaches. You go your way and let me go mine without trying to mix you up in my life again.
1942 May 27 - Henry's draft response to May 26 letter
If the time has come that you are too bored with me to even discuss for a few minutes a matter so grave as the war, then what remains that we can discuss together? A question that affects the public, the proletariat, the world's future so vitally you dismiss with boredom and disdain. Is there any question that affects our relationship or future more directly than that? – Possibly. You may answer, "yes, my family."
Saturday night I asked you "why is the government going to war?" I asked you to explain why the government was doing something which would surely have very serious consequences for it – either its overthrow by the right reaction or by a proletarian revolution – with the former being the more likely. I gave the reasons that would cause a strong reaction to the present war policy. My reasoning was that either revolution or reaction will follow as a result of the present policy, with the possibility of reaction being stronger. We had not discussed or analyzed the next step and you gave no reasons for assuming (as you do) that a 25-year period of reaction will follow because Mexico is going to war.
As a final bitter jibe you remind me that I shed tears easily, inferring that the sentiment is lacking. That is refined vindictiveness. Am I ever spiteful, malicious? When you get angry you stay angry, but this time you're really setting a record for bitterness. I have never felt such deep or sincere emotion as during the past year – and never have I shed so many bitter tears. I'm not regretful though the tears might have been shed for a better cause. I had hoped, sincerely hoped, that you would learn to love me as I love you. Perhaps in spite you have touched accidentally on the cause of our differences. Your love is not a matter of sentiment, emotion, sympathy or understanding. Yours is a general coldness, an aloofness, a feeling of separation with an occasional outburst of passion, purely carnal. You have never had a desire to understand, to think the same, to feel the same. We never reached a harmony of understanding. You didn't care to feel close, united. Few were the sweet words you wasted on me, and though it was flattery still I enjoy remembering it. I have no way of measuring the depth of the sentiment you felt for me – I remember, besides the nice kind things, you also told me that you hated and despised me. Maybe the things you said never hurt you. Maybe my feelings are too easily injured. Maybe everything you say about me is true, but I can't recall that I ever, once, said or thought similar things about you. People without emotion are unable to feel the lash that cuts another's back. Unless they themselves suffer want they don't understand what hunger means. To them poverty is a matter of statistics. Their feeling of abhorrence for beggars is assuaged with a few pennies. Their feeling of pity for the poor, dirty shabbily dressed, pinched faced, hungry little children – demands that they wait, that nothing can be done now, that after a 25-year period of reaction the workers will simultaneously all over the world rise in revolt and without theory, party leadership or guidance establish a classless society – if in the meantime the race isn't wiped out by war. I am not ashamed of being soft hearted or sentimental, because it brings me closer to those I hope to serve. I am sorry for the sufferings of my family, but feel more depressed when I see the poverty of whole peoples who not only suffer but have no hope of betterment.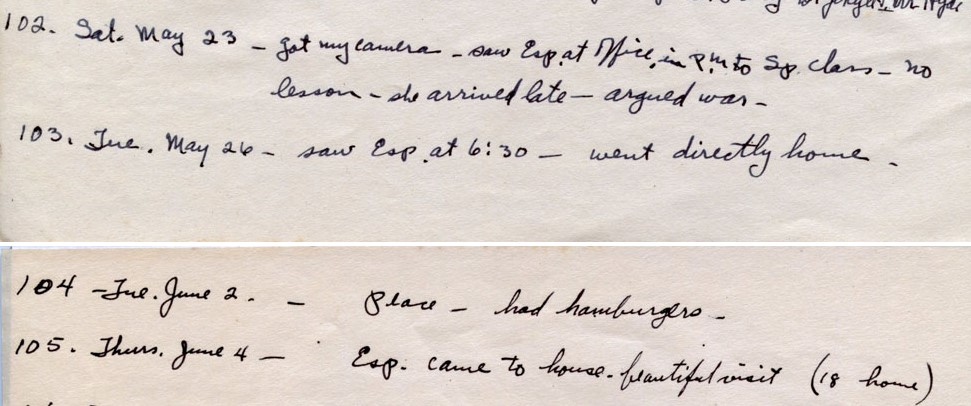 ---
1942 July 17 - Henry's notes concerning Esp's disdain for Trotskyism and Marxism in general
Henry - The only criticism you have heard me make of literature is that it is less useful to mankind than Marxism. Your criticism of Marx is entirely different. Without understanding him you attack his basic theories. You contradict the fundamentals of Leninism, and without knowing what our position, program or method is you insist the Trotskyist are crazy and don't know what they're talking about. We may discuss literature, but it is impossible to discuss Marxism with you, to accept any of your criticisms on it, unless you acquaint yourself first with the facts.
Mankind needs food and peace. Marxism not literature will make it possible. If, as you say, I worship Marxism and you disagree – you should either disprove my fallacies or maintain a respectful attitude. It is unimaginable that years of friendly relations can follow unless this principle is observed.
1942 Nov 14 - Henry to Marie - She is practically a Stalinist
Henry - "Her attitude to politics exasperates me. She is practically a Stalinist so you can imagine what happens when we discuss political questions"
1942 Nov 25 - Esp going to Oaxaca to nurse Traven
Henry notebook entry - "Thurs, 26 - Thanksgiving Day - letter Spec del. Esp - to Oaxaca - Schwein sick"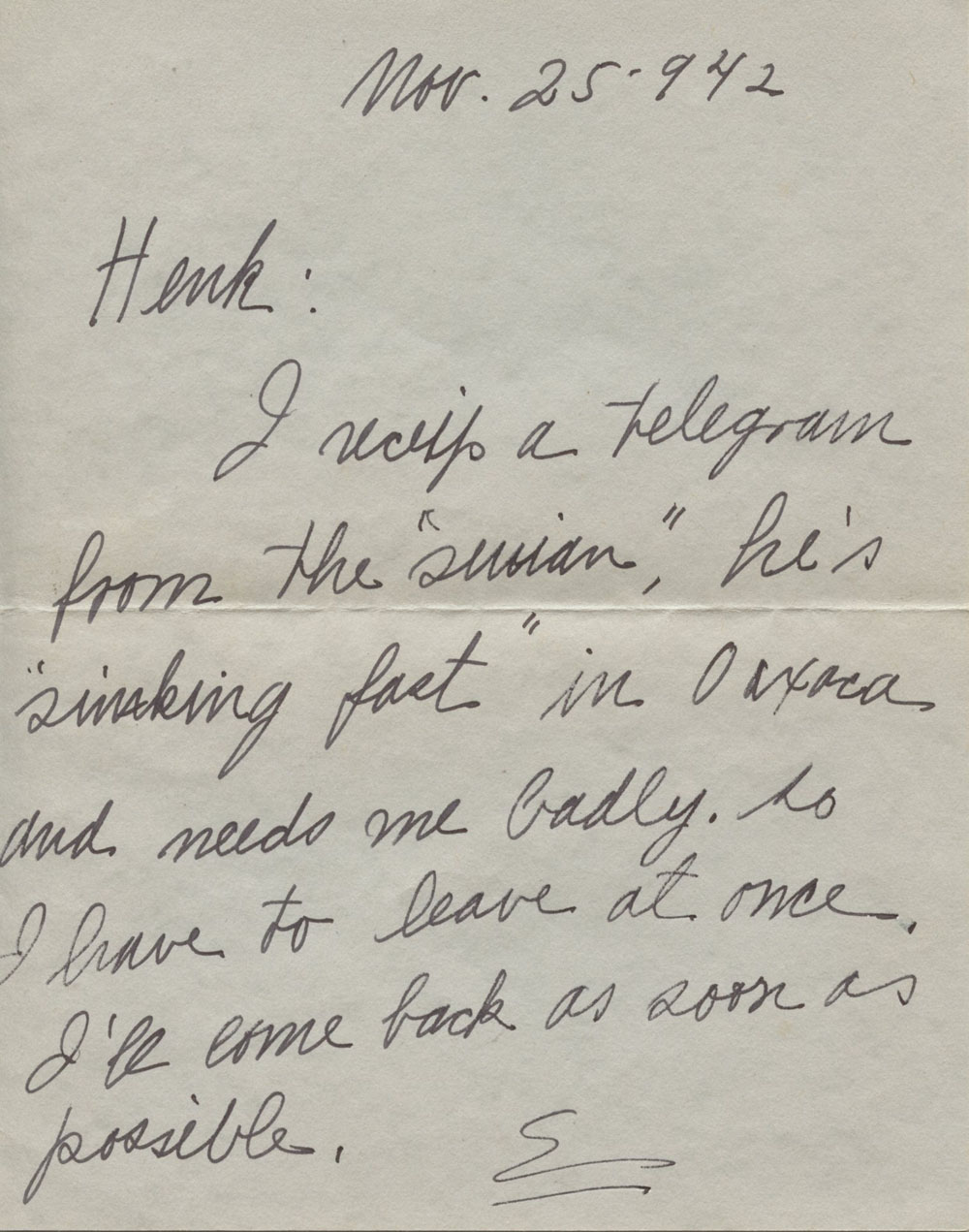 1942 Dec 11 - Henry letter home describing Oaxaca trip
Henry to mom - "Esp received an urgent telegram from the Am. writer for whom she translates to hurry to a village in Oaxaca where he was dying. The village is in the tropical jungle bordering the Pacific. She went 18 hrs. by narrow gauge R.R. then 17 hrs. more on horse-back. In the village of 7 native huts there was no water, (they ate fruit instead), nor was there bread or corn. They live on fruit and fish. The only medicine the fellow had was a bottle of mescal (like brandy). He had a cot and a table for furnishings (no chairs) and had lived there for 5 yrs. She gave him injections, drained his liver and prevented him from getting up and wandering off into the jungle. They traveled 27 hours by ox-cart to get him to the city of Oaxaca then 1hr 40min. by plane to Mex. City. She has been caring for him day and night and swears she hasn't slept more than 2 hrs. any night since Nov. 25. They had vacation from Dec. 1st to 10th so today she went back to work. The old fellow is out of the gravest danger so she has a nurse now caring for him. I've seen her for only a few hours in the last 2 wks. She says big blue scorpions 4 or 5 inches long scampered over the dirt floor of the old man's hut so even had there been an extra bed or chair she would not have dared to sleep. Monkeys chattered in the trees outside and looked in thru the door or windows. Orchids more beautiful than those they sell in New York for hundreds of dollars, bloom and fade - admired only by the animals and insects inhabiting the wilderness."
1942 Dec 18 - Henry - War with Walter - Can Esp visit the compound?
Yesterday I learned that Natalia and Seva were going to Cuernavaca with Zamora today. I phoned Esp who said that whereas Walter and I would have several days free she'd like to visit me sometime when I'd be alone. I asked Walter when he wanted to be free - refused to say, when I said girl would come - got into argument - his reason for opposing it - "It's against the rules."
1942 Dec 22 - Saw Esperanza at Restaurant - said it's all off.
1943 Jan 14 - Calendar - the price of finding a father was paid by my losing you.
1943 Jan 16 - Henry postcard to Marie - going in one month
1943 Jan 17 - Esp to Henry - I beg you once and for all to leave me alone
You, too, have ideals and purposes - which have nothing to do with me and to which you would be ready to sacrifice me, justifying yourself with the same words with which you justify the abandonment of your mother, your father, your loved ones. And I, I do not want to be sacrificed neither by you nor by anyone else as long as it is in my hands to avoid it. So, you must understand that if I have made this resolution, your insistence to see me is extremely embarrassing. I beg you once and for all to leave me alone. I don't want to cause you or cause me any more sorrow.
Our inability to help each other, to find some happiness together, lies in the fact that our worlds are radically opposed. You always feel and think in the opposite way to me; I don't think there is a single point on which we have coincided except for the one that refers to causing pain and discomfort to each other. I have already told you that I want to be happy, selfishly happy, IN MY WAY. I will conquer that happiness even if it is only to enjoy it for an hour, but I will conquer it and the first step to achieve it is to do without you.
1943 Jan 21 - Telegram to mom - leaving 7th
1943 Jan 25 - Esp threatens legal action and copies the compound
On Saturday (23rd) you had the audacity to go to my house to insult me in the most vulgar way, completing the hateful scene with threats to make a scandal. I want to warn you that I'm not willing to take any more. Absolutely refrain from bothering me again, from trying to insult me and making the scenes that you like so much, for I do not believe that the scandal you speak of will suit the people of your party, for it will not be you but I who will do it at the precise moment I see you willing to bother me one more time. I have informed my brother of your follies who, as you know, is an assistant lawyer for the Attorney General's Office and who does not agree that I should be bothered. So, you have been warned. I would have wanted our friendship to end, not in a drastic and painful way, but as it should - the friendship of two civilized people who cannot understand each other. But your acts of barbarism have overwhelmed me and it is time to put an end to this.
With copy for Mr. Walter Ókroere
1943 Jan 26 - Henry notes - Superabundance of adrenalin
Upon receipt of Esperanza's letter, Muniz and Otto immediately tell Henry he must leave the compound.
Henry -
Can keep me 2 1/2 years as dishwasher without vacation.
Can throw me out of house and into army
Is an important event - turning point
since 1934 have sacrificed person to party
now party is personified in 2 people Otto and Muniz
my choice - sacrifice more or sacrifice party
1943 Feb 1 - Henry leaves Mexico bound for Chicago
His Mexican odyssey ended - Trotsky dead, Esperanza writing the letter that had him thrown out, the Socialist party enforcing the action - he would soon be in the army and sent to war.
---
1943 March 18 - Esp to Henry and 3 pages of Henry's resonse
Esp - worried about the health of my father
To think that you left, that maybe soon you will be in the army, in which life is more difficult every day. The thought of you walking away from me the way you did makes me ache at how utterly inept we were at understanding and helping each other. The pleasant moments that we were able to spend together were darkened with bitter discussions and, having been the best of friends, we ended up becoming the worst enemies. How much irreparable nonsense!
Now I only wish I could forget the bitter things, the painful things and keep the pleasant memories of the few sweet days we had. I also keep a white rose between the pages of a book, and the memory of a July 24 that has remained with its blue sky and the flowering trees in the atrium of a church, engraved in the most intimate part of my heart.
Henry - Dec. 24 I got the rest of your story
1943 March 22 - Walter to Henry from the compound
1943 April 7 - Natalia Trotsky to Henry
There is nothing newsworthy or important here, but it shows the congenial letter writing skills of the woman who suffered so much.
1943 Aug 3 - My old one every day is more crazy and he only knows how to give me displeasures.
I was very pleased to receive the quick reply to my letter, but I was even more pleased to learn that your departure for the front is being delayed more and more because I am beginning to believe that the war will be over before there is any need for you to be sent, I hope!
In my next letter I will send you a portrait of me laughing, so that you will forget my sad face and have a happy face in mind. I want you to send me a portrait in your uniform, but send it soon. I don't want you to portray yourself sad, I also want to see you happy, dear Blue Eyes.
1943 Sept 2 - Even if you are at the end of the world, do not leave me without news from you
Esperanza sent Henry the smiling portrait that he saved and is now her face to the world.
1943 Sept 27 - Hopefully by December all will be finished
I have hopes that when this letter arrives you have already received the portrait and the book that I sent you more than two weeks ago and that I do not have to explain to myself why you have still not received.
Hopefully by December all will be finished and we can eat together that pumpkin pie together that you make so well.
1943 Nov 6 - mi viejo más loco que nunca pero trabajando duro...
I am only now able to answer your letter of October 17 last, because due to a "volcaneada" (we went from foot to head and from head to foot up Ixtacihuatl and then the sierra from side to side in 53 hours) I was almost blind for many days. It is only now that I am beginning to see normally and the horrible burning I had is going away. The eye doctor says that within a week I will be completely fine. Don't scold me and don't get angry and tell me to stop climbing the mountains; you must understand that not having you here to fight, argue and waste my energies, I need to use them on something so I don't burst.
This month I have all the final exams of the first year at la Escuela de las Artes del Libro and I have so much to study and so many things to do that there are days when I sleep two or three hours. But this helps, all this helps to not think about such bitter truths that could not be endured if one didn't get drunk on books and volcanoes.
Mom is a little better in her delicate state; my old one is more crazy than ever but working hard and ... time follows its march!
Write whenever you can, don't stop writing until the day you can ring the doorbell of house #1106 Avenida Coyoacán and I hear Silvia's voice shouting "There is Mr. Henry."
1943 Nov 17 - I cannot break the knots of affection...I am very sorry you have not received my book, because for many reasons I had wanted you to see it ...close your eyes, think intensely of that day...
It was yesterday, November 16, I received your letter of October 31, that is, it took 16 days to arrive. Now I know why you tell me that I write you with a lot of delay and it is that possibly my letters do not reach you as soon as I would like them to. I am very sorry that you did not receive my book either, because for many reasons I wanted you to see it.
This month has been sad, sadder that all the previous ones, it is very cold, the sun leans out alone from time to time and it rains. Also, it is already almost one year that you left and the hole grows inside me in such a way that seems to threaten to flatten me. But I don't want to speak to you of sad things, I don't want to think about them either, and that's why I try to numb myself with hard work and go up and down volcanoes to get drunk as others get drunk with alcohol. Do you know? Sometimes I have desire to run, of leaving Mexico, of looking for a way to meet you, of working in any thing - you already know that I am a good nurse - and besides, I have no fear of anything but I cannot break the knots of affection, I could never forgive myself for leaving people who are happy with my presence. If I could be a little selfish and forget my tribe, I would fly, but it is not possible to change, it is necessary to continue to voluntarily submit and to hope for what the devil wants. You have a lot of reason of envying the ducks.
If the censor didn't stick his nose in, he could tell you many things, something that would resemble a poem we both wrote in Cuernavaca. You remember? Close your eyes, think intensely of that day and perhaps you will be able to forget the cold and the rain and feel the heat of that earth in your heart, the hours we spent on the terrace looking at the trees and the pool and then our walk through the atrium of the church where you took that photograph of me in which I appear immaculate, in my white dress and surrounded by white flowers. Think about that and you will achieve a few moments of happiness like me.
1943 Nov 29 - a couple of roguish types, my old one and you.
I don't know if in any of my previous letters I told you that together with five boys from the Club, I made the descent into the crater of Pico de Orizaba after going around it during the night, remaining at the bottom for 11 hours. We rappelled down and with it, as they say, "we did something unprecedented in national mountaineering."
The doctor recommends rest, but he doesn't know that it's impossible to rest and get relief, when the headaches are caused by a pair of roguish types, my old one and you.
I wish all this was only a nightmare from which I could wake up suddenly, assured that nothing was happening, that it was all a bad dream and that very afternoon I could see you, walk with you, discuss with you, and hold tight your hands. But unfortunately it is reality tremendous reality and who knows how much time will pass before we can fight again.
It is two weeks since I have received a letter from you which as you will understand has me very distressed. I hope it is due to one of the damned graces of the censors and not because you are ill or ...something worse.
1943 Dec 16 - mi padre ha vuelto a la selva
I fell in love by what you say about the "dozen little Schnautz", and that if I had them, I would have more rest than I have now. Possibly, but if before I had the conviction that this filthy world is not worthy of sheltering my child, now I don't have the slightest doubt about it. So, let the little Schnautz live only in our thought that is clean and in our heart that is good and let's not cast them upon this earth to suffer the evil of Cain. If you like, we can paint them on paper, we can give them rosy cheeks and lips, little blonde pigtails, and blue eyes as pretty as yours. Then we can see them smile at you and even caress them without bringing them into this mud. Okay, Papa Schnautz?
I'm very saddened by what you tell me about your dad. As for your mother, it is no longer new that she works 27 hours a day because I think that has always been her normal day.
My father has returned to the jungle but at least his health is good. It seems that he is writing a new book that absorbs all his attention.
La Noche Buena and the last day of the year, especially the latter, you will not leave my mind for a moment, I will think of you with such intensity that I am sure you will feel my thoughts, as you must feel that, in spite of everything, I love you.
1943 Dec 27 - Cuídate mucho Blue Eyes, cuídate mucho para mí
Last night I dreamed of you. The dream was so beautiful. We were walking along the side of a mountain full of trees, similar to those we crossed to go to las Peñas de las Hadas. You remember? You took me by the hand and we went in peace, without arguing, without contradicting each other. We walked in silence, only from time to time you turned to see me and smiled sweetly, as only you know how to do when you want. I looked at your blue eyes and felt down to the bottom of my heart an unknown feeling, something that must be beyond what is human, because never awake have I experienced such bliss, - I never remember having been in a state of mind more serene and more perfect. It is as if all the sorrows and fears were erased at once, as if my great egoism and this attachment, this deep rootedness to those of my tribe, disappeared as if by magic to give way to something so great and so sweet that it is impossible for me to express in words, if only you could understand!
Now, all day I have been like a sleepwalker, as if I were walking without putting my feet on the ground, as if my heart and my brain wanted to escape from me to return to the regions from which they were torn in a sad awakening.
---
Esp and Henry wrote between 1944-1946 but the letters are lost
---
1945 May - Esperanza's mother Elena dies. Her brother Adolfo is appointed to the Senate.
1946 April - Henry gets out of the army and back to the States. He spends two weeks in Mexico with Esperanza in May.
1946 June 11 - Esperanza to Henry - Tomorrow I will eat with the old one, he is here, in the city, he came to fight with me, and he insists that you don't need me for anything.
Henry wrote on the envelope - Received June 14, Answered June 14 - and he enclosed a letter to B. Traven
I need to write you a letter, a long letter in which I can explain to you everything I feel and what I think. How many hours we have lost! To think that the few days we were able to enjoy the happiness of having each other after the horrible years of anguish that we were separated, we spent them discussing politics and wandering in the jungle among strange people. My God what idiots we are, we well deserve the punishment we suffer today. It seems to me that I could not bear your absence, and yet I will bear it. Now my ideas are so confused, my heart is so full of bitterness that I find it difficult to make you understand what is happening to me. How is it possible to admire you, to love you in this way and to love and respect my people so much that it is not possible for me to hurt them and if I have the courage to make you suffer? I don't understand Heni, I can't understand. You think that I am hard, you have even come to think that I don't love you. If you saw me right now, perhaps you could know how much I love you and how much I am tormented by not having the right to love you. I feel that since you left I have aged ten years. I think, I try to understand and I can only repeat something I read somewhere that says: "What agony of living, my soul, why do I love you? If I am with you you kill me and if I am without you I die." That is the truth. Help me Heni, you are stronger, more noble, more intelligent than me. I am cowardly and foolish. I really do not deserve your love, your devotion, I am worth so little, I am not even capable of facing remorse. Breaking this circle of kindness and affection that surrounds me is beyond my strength. How can you love someone so deeply who is not capable of sacrificing anything for you? And yet, I ask you to help me, to steal a few hours and days from your life. Do everything possible so that I can see you in December. Have you already thought about what we talked about regarding your law studies? Are you doing everything possible to find a place at the university?
Tomorrow I will eat with the old one, he is here, in the city, he came to fight with me, and he insists that you don't need me for anything. He says that "you will never stop traveling" and that I will only be a station on your way. A beloved station perhaps but one where you only wait for the train to leave. He is old and knows a lot, maybe in the end that is the truth.
June 19th. (1946)
My dear son:
My daughter delivered your amazing letter. I was acquainted with you though her and had an extremely opposite idea of you, of your ideals, of your talents. My dear boy, permit me to tell you that the psychological disorders are only on your part. I deemed you a courageous intelligent, unprejudiced man, and now I come to be aware that you are fed up with all kind of prejudices and that you subordinate your ideals - if you have some - to biological needs easier to quench than hunger (Ovbiously you had the opportunity to prove it while in Europe)
You made a long speech about the word bastard. This word has for bouorgeoisie throughout the world the same meaning and importance you give to it. Any dandy punches the nose of another dandy who dares to call him bastard. So you did. But she, and me and the few who have belonged to my tribe, don't give a damn for it. We are no dandies, we are men, just men, and we know all the animals which crowd this funny world come to it by the same mechanism, so, where is de difference? This man who is writing to you never knew his parents, but he is sure they were nice stuff, since they begoted a grand-daughter as wonderful lovely and damn intelligent as my girl.
On the other hand, you are right when you say I have done and I will do nothing for her, right. But you, what can you do for her? You came to see her after years of separation and you had to claim that you did a great sacrifice, that you spent your last cent just for spending a week by her side, only a week. Think about the sacrifice it might represent to devote her your life and to work for supporting her. Do you believe you are able to buy her even her nylons? To give her all the petty things she adores, (clothes, perfumes, flowers, books music) plus food and house? All these things she gets by her own effort. Now, do you thing you could be able to afford her with them? I sure you are not since a single week deprived you from all the money you could get in "years and years".
What you intend to do is to "liberate" her by obliging her to support you while you wander and talk like a chatter-box about your so called ideals. And that, my dear son I wont permit you. - Im going to make you a proposition, the only fair and possible one: work, work, work, make out of yourself somebody (bastards in my world don't need to know their "Pedeegri" for becoming men, real men, but they are always hungry tor maternal love, believe me) so, I think you have an advantage over we bastards, you have parents you know who they are, you have a mother who has worked all her life like you should like to see my nena work for you and who notwithstanding does not deserve at her age ither your love or your help. Now listen here, you will get enough money you will send to her, first to pay her the hundred dls. she gave you (she had to work hard for getting them) then you will get the dough to pay her airplain tickets and support her entirely plus perfumes, flowers, books and music. This you will do for as long as you will be able to and you will have as much love as you may deserve. - Otherwise, if you dare to injure her life by depriving her from the real and ideal things she has achieved by means of her inteligence and through hard honest work, I will kill you.
This is the first and will be the last letter I write you, Im old and have piles of work to do, so, my son, accept my proposition or be careful.
Good luck, my beloved dandy. Your bastard father,
B.
1946 June pocket notebook - reaction to Traven letter, pocket notebook on trip to Mexico
4. gee - am I supposed to be afraid or laugh in face
5. got his goat - a reply - come out in open. good. say to me what to her.
6. not one ans. to criticism
1946 Oct 23 - Esp to Henry - It is desperate
1946 Dec 10 - Esperanza to Henry - Don't tell Gay that I am the daughter of the old one
How sorry I am for the accident you had, I hope you will be all right. I wouldn't want the scar on your jaw or the structure of your teeth to spoil that face of yours that I like so much; but if there were no other choice, it wouldn't induce me to love you any less. I know that even if they were to tear off your nose, one ear and all your molars, I would still love you "as unreasonably" as you love me.
---
New York trip Jan 26, 1947 to Feb 26, 1947
1947 Jan 25 - Telegram - Arrive La Guardia Sunday Jan 26 1947
1947 Feb 27 - Postcard from Cuba - Only a day away from "Apartment 15" and I miss you already
Boca Dulce - Boca Dulce Esperanza New York 1947
A poem by Esperanza hand written on a good pencil sketch of a Mayan prince. I don't think the sketch is by Esperanza but I have no information. All I have is a negative.
---
New York - Europe trip Nov 16 1947 to Feb ? 1948
Esperanza itinerary -
Nov 15, 1947 Arrive San Antonio (Ancestry dot com)
Nov 16, 1947 Arrive Sunday at 10 AM LaGuardia - Telegram
Nov 25, 1947 Here I am in Paris - Letter to NY
Dec 27, 1947 Roma - Letter to NY
Dec 29 to Jan 11 - Praga
Jan 12 to 14 - Paris
Jan 14, 1948 Leave Paris for NY - wait for Henry at his apartment
Jan 1948 The Treasure of the Sierra Madre was playing in New York
I am very concerned that you have not written to me; As I told you in my previous one, I have no news of the old one either, I am really upset. what's wrong?
If you don't love me anymore, tell me so I can assure you that you can go to hell. What interests me is knowing that nothing is wrong with you, that you are fine.
I also consider that there is no reason for you to love me. Your affection for me must be, as you say, something that perhaps only Freud could unravel. I'm so bad, I'm worth so little! And yet you say that you love me. Well, what are we going to do? but despite all my defects and my wickedness, everything negative that I have for you, I am deeply interested in your health, it afflicts me to think that you can be sick, that you can feel sad and suffer. Since you stopped writing to me for a long time, I thought that perhaps your injury had had consequences and that you were in such a bad way that you couldn't even write to me. ... Also, you tell me that in 17 days you have worked only 3, which means that your economic situation is not good. Now I'm sending you $100 by cable.
As for my trip, I will do it by plane, I hope to leave here on Saturday, November 15 to arrive in N.Y. on Sunday the 16th. I will notify you in due time so that you can go and receive me.
1947 undated - Part of a letter from Henry probably to Mom
Telegram 1947 Nov 14 - Arrive Sunday, Nov 16 1947, 10 AM LaGuardia, Esperanza
My dear enemy:
Here I am in Paris, free as the wind; but missing your continuous "Hey wait a minute."
1947 Dec 27 - Esp in Rome, Prague, Paris, N.Y.
---
The accident
In 1948 Esperanza has an accident. It's not clear when or what. She says June 23rd was the day she began to die, whether that was the initial accident or some unfortunate medical disaster. The Figueroas in Poniatowska's book are pretty clear she was in a jeep or a truck that overturned on the side of Mount Popocatepetl. Henry wrote in a letter that she was on a horse that stumbled returning from a climb on Popo and she fell over his head. Traven thought it happened in Switzerland while skiing the previous winter and she broke down in June. Her spine severely injured, misdiagnosed, she finally has an operation and a long recovery. She is not able to walk for many months but writes in 1950 that she can walk perfectly.
1948 July 18 - Gabriel Figueroa to Henry Schnautz
On behalf of my sister Mrs. Lopez Mateos, I am writing this letter to apologize on her behalf for not being able to write to you personally, as she has been very ill for the past four weeks, confined to a sanatorium.
1948 Dec 20 - I will never be able to return to the mountains
I would have wished to die too. In this month - on the 23rd - I have been ill for six months, since it was June 23 when I began to die and I still cannot walk. I will never be able to return to the mountains, nor take refuge in the forests. In addition to being lame, invalid, I have aged ten years.
---
1949 Feb 14 - I am a little better, I can already walk a few steps on crutches.
1949 March 31 - I am much improved, can already walk quite well and have returned to work at the Institute
I won't complain any more, Henry like all men only cares for himself. I tried my best for the last time writing him a letter to see whether it was possible - after his past experiences - to bring him to my life, he didn't refuse openly, he only didn't accept my plans "for he has already made his own plans", that's all and that will be all.
Now listen Marie, I have to translate a book into English, it is rather difficult for me, but I will make it. Will you please make the necessary corrections in the originals I will send you? I will pay you for that, it will be an interesting thing if we can work together and make a good job. Only I want to know if I can depend upon you - I don't mean depend on your abilities for I know you write very well - but in the factor time; I should send you the translation as I should go on making it and you should return it as soon as possible so that I would be able to copy it with the correctons done by you.
I was very pleased when I received your letter. It has been so long since you wrote! I thought you were already taking beautiful color views in beautiful Spain whose people are starving and suffering under Franco. So, it has been wonderful news to know that instead of that, you are among your people and working at something as useful and satisfying as building a home. I know that this work will do you a lot of good.
Give Wally's wife a hug from me for the little daughter she just had. It's funny, your dad, he also married a Dutch girl, your mother is Dutch, isn't she, and they raised a large family just like Wally and Katie are sure to have; your kid brother Ed will marry and "land" hard too. It is calm, sensible people like Wally and Katy and Edy and Caroline, who give us an idea of how good and pleasant the simple, hard-working life is; but we are not all the same, You, Marie and I, we are neither calm nor sensible; we have to live exploring the world if not practically, if only with our mind and imagination; we are constant travelers and when circumstances condemn us to enforced stillness (as they did me during the long months of my illness) we feel poor and wretched. On the other hand, we live our lives more intensely, I do not believe in any way that I have wasted my youth, of course not! I took advantage of it and how! there are passionate, turbulent chapters in it and some tender pages; very happy days spent with you, bitter days separated from you during the war; the memory of our great fights and the many happy hours we spent together. I have made you suffer and you have made me suffer; but at the same time you have made me happy and I have made you happy. If we have argued and fought, it is also true that we have laughed and we have kissed and we have sung and we have felt that we were the masters of the world knowing that we had each other. You call that wasting youth? No dear, that's what I call living youth and living it passionately.
1950 Sept 19 - When will we see each other again?
It has been a long time since you wrote to me why? Please tell me if you have arranged your study trip or if because of the war in Korea you have had some difficulties. I am also worried about Edy and Wally. Edy may already be called to fight just now that he plans to get married and Wally, already married and with his little son, may also be called again. Of course you three cause me more grief than anyone else because you are you and they are your brothers; but I also think of all the other millions of Edies and Wallies.
Write to me, dear, tell me how you are and what you are doing; tell me if your health is better, tell me how Marie and Caroline and your mother are. I need to hear from you because always, in the midst of this complicated life of mine, your family has been my family.
When will we see each other again?
1950 Oct 14 - I can walk perfectly
As for my health, don't think that I am sitting in a wheelchair, no, I can walk perfectly well and I keep working like hell to earn our daily bread. As for the stories in the magazines, the less they talk about us in them the better, because every day the journalists - other pigs too - would like to invent some new and stupid lie.
Although my letters are few and short, the message they carry is the same, because I too, after all, have only loved you for ten years.
1950 Oct 30 - See you later, Heni, Until "a little later", to you even on the day that I die I will not be able to say "good-bye" because I know that wherever I am in this or any other world, we will always meet to discuss and... to love each other.
30 of October of 1950
Dear Heni:
I know that you are a man who can easily give away twenty-five dollars, after all, it costs you no work to earn them, because that thing you do on the pier, it's only a game. Playing like that broke your teeth; but foot-ball players also get their bones broken and they do it for the fun of it like you.
But since I do work and not for fun, I know what two hundred and fifteen Mexican pesos (equivalent to 25 dollars) represent in hours of work and fatigue. And I don't break my teeth, nor do I work in the rain and wind and snow, loading a whole ship. That's why I'm giving you your money back. I am giving it back to you because you will need it very much for your trip and even to live in N/Y. where life is now so expensive. I can't keep it for you, because I might need it and when you ask for it I might not have it to give it to you.
Tell Pete that if he earns the truckload of money you say with his invention, before coming to the border in search of mines and lost treasures, read carefully "The Treasure of Sierra Madre" the "old man" knows something of those things and maybe reading the book Pete will find wise advice.
When I was cured of my serious illness and could start walking, the doctor ordered to destroy all photographs of me climbing a volcano, or going down a crater or swimming. In short, all those that could remind me of something that is definitely out of my reach.
You know that although in 95% of the things we don't agree, I wish you all success in your new project.
See you later, Heni, Until "a little later", to you even on the day that I die I will not be able to say "good-bye" because I know that wherever I am in this or any other world, we will always meet to discuss and... to love each other.
1950 Dec 29 - All these things seem very simple; but of simple things are made the memories most dear to our lives.
Mexico City December 29, 1950
Heni mine:
Mine? Yes, you are mine, as much as I am yours; that is, to the extent that each one has been able to give himself to the other; but that measure seems to embrace a whole world, a great world inhabited only by you and me and of which I seem to be full, because when I feel lonely or sad or tired, all I have to do is close my eyes and remember moments so beautiful like the one in which I saw you at the NY airport waiting for me; when we made the drive from NW to Penn Station. And from there, in a taxi, we arrived at your apartment. The morning was cloudy and cold; but everything looked divine to me. You had told me that the apartment was small and ugly; but when I entered and saw the bouquet of roses on the dresser and all the fruit you had brought for me on the refrigerator, I thought I was entering the palace of a king, of my wild king, that with the knives taken from the nazis had hunted the great black bear whose fur covered the floor beside the bed. That same day of my arrival we went to wake up Wally who shared his room with the Icelander. I remember I was very amused to see him sleeping like a baby, under the white socks he had washed the night before. - All these things seem very simple; but of simple things are made the memories most dear to our lives. What meaning could the words "Toluca" and "white roses" have for someone? Just the name of a small and sad city and the name of some flowers. However, for me they are magic words. - I remember, when I want to be happy alone with my memories, even the man from whom we bought milk and bread on the corner of 8th Ave. and 19th Street; I remember "Marie's" Restaurant, the one where a tree trunk grows, I remember, I remember, I remember, and I'm happy; Now we are going through hard days again, like the ones we lived before you came to get me back from Europe. When will you come back to look for me? Well, it's better not to think about it, because your plans perhaps will cover long years, years that I will live working, growing old and remembering.
To you, I wish you all the happiness in the world and if you have a little left over, share it with mom, Marie, Wally, Eddy, and all the brothers and nephews.
May my good wishes result in some good realities for you and me in 1951.
1951 Jan 12 - Be as certain as I am that someday, when we are not yet too old, we will be able to live better.
January 12, 1951
Dear, dearest Heni:
Our life is difficult, very difficult. Tell me, could you come to Mexico, become a Mexican citizen in order to get a job and be able to make a home? No, I don't think so, because to get citizenship you would need to have five years of proven residence and without being a Mexican citizen you would not be able to perform any paid work. Could I go to the US and get a job? No, I could not, because the government of your country has a thousand F.B.I. men here who know that we - Gabriel and I - have fought for peace; that Gabriel was in Czechoslovakia to receive an award for his photography as he has received them from all over Europe and even from the US, but that has been enough for them to call us communists and have denied him "the best photographer in the world" entry into your country, as they would deny it to me if I tried to get it.
Now, could you and I live in peace? No, I don't think so, you see that even in the short time we have spent together we have not stopped arguing, fighting, making each other's lives impossible.
Therefore, I believe that the only possible thing for us is that you come from time to time, (if you have money for the trip and the rest) and that we try to be happy during the few hours or days that we can spend together.
Tell me that you will try to live as well as possible (objectively and subjectively). Be as certain as I am that someday, when we are not yet too old, we will be able to live better.
1951 Feb 25 - I hope that miracle is made, and that we can make up for all the time we have lost.
25 of feb 1951
Heni:
It is the same fog, the same cold and the same smell that hung over N.Y. that morning of 1946, when we got off at Penn Station and took a taxi to your apartment on 19th St. When you opened the door, there was a bouquet of roses on the dressing table and on the refrigerator you had a basket of fruit for me. Now (7 am) I find on my desk a basket of fruit and a bouquet of roses brought for a sick person.
This Sunday I will have to work twelve hours because the person who works the afternoon shift is sick. But my day begins well, because for a moment and by association of ideas I have felt your presence. How much I miss you and how much I have loved you. I have hope that we will be together again. I very much want to return to NY; but I think that for many years it will be impossible and that only a miracle - as you say - will be able to reunite us again. I hope that miracle is made, and that we can make up for all the time we have lost. Now I am no longer young and my health is delicate; I have ceased to be that strong and healthy horse; but I can still work, love you, think and look at life always as a battlefield where sometimes we win and sometimes we lose. Defeats and sorrows have a reason for being, because without them we would have no point of comparison and we would not know how to appreciate the good and pleasant things. For example, without your long absence that hurts me so much, the joy of seeing you again, of feeling you next to me, of hearing you talk and speak, of giving you a kiss after a fight would not be so great and wonderful, it would become a habit, a common and ordinary fact that would end up making of ourselves, not two crazy people who adore each other despite the time, despite the obstacles and distances, but two normally ordinary people.
Life has been hard on us; but it has given us more than the others because it has given us the faculty to resist the pains and to feel more deeply and profoundly the joys and pleasures.
I wait for the miracle and I kiss the tip of your nose
Esperanza
---
1951 Oct 31 - Hal Croves to Henry Schnautz
Dear Mr. Schnautz:
It has become my painful task to notify you that Esperanza in consequence of the complicated operation she went through three years ago and after much suffering which she bravely faced has died.
Only the few persons who knew her well, and you have been one of them, can realize how much poorer this world has turned with Esperanza gone.
You have my sympathy.
Sincerely,
Hal Croves
Farewell...
1951 Nov 24 - Hal Croves to Henry Schnautz
---