Ruby Weil
Ruby Weil was an American communist who played a role in the events leading up to the assassination of Leon Trotsky. Ruby was born in Evansville, Indiana. Ruby came from a large well-to-do, urban Jewish family, just like her historical counterpart Sylvia Ageloff. In Ruby's family five daughters and two sons survived. Both of Ruby's parents were born in Germany. The area between Indianapolis, St. Louis, Nashville and Cincinnati was at one time one of the greatest hardwood forests in the world, and Evansville was right in the middle of it on the Ohio River waterway. It was said that German immigrants settled in the area because it looked like their homeland. In the 1800s Evansville had dozens of furniture factories. As the forests gradually gave out, heavy industry and their unions thrived. When Ruby was born in 1904, Evansville had just over 100,000 residents.
Emil Weil, Ruby's father, was a well known businessman, the president of a large printing corporation named Keller Crescent, but even better known as a civic leader. Emil died suddenly at age 43 of a heart attack when Ruby was 12 years old. It was front page news in Evansville, Jan 8, 1917 - "Mr. Weil has played a prominent part in the upbuilding of Evansville. He has played a part in every civic movement that has been conducted in the city during the last ten years and has served as director of the old Evansville Business Associaton as well as the Chamber of Commerce for a similar length of time." Hundreds were turned away from the funeral, the newspaper reported, because the temple could not hold them all. Before he died he had been president of the committee to raise money and construct a downtown Coliseum. It was opened to tremendous fanfare just weeks after his death.
Emil 1873 - 1917 born in Germany
Elizabeth 1873 - 1964 born in Germany
Ervin 1897
Gertrude 1898
Marion 1901 (husband Harry Howe)
Ruby 1904 (husband Ben Lewis)
Sam 1905
Helena 1907
Corinne 1909
According to the 1930 census, Ruby and Marion were living together in New York in 1930. Marion's husband Harry Howe was an editor of the socialist paper the "New Militant" and a leader of the American Workers Party, the same party that Budenz, Ruby and Sylvia Ageloff all belonged to in the mid 1930s. Ruby's sister Gertrude is often mentioned in context of Ruby and Sylvia, but it may be a case of mistaken identity. There was someone named Gertrude in Paris who was involved in the handoff of Jacques Mornard, the eventual assassin, onto the supposing unaware Sylvia. This person has been called Sylvia's sister but others name her as completely unrelated. Corinne was living in England and a stopover on Ruby's and Sylvia's fateful trip to Paris.
Louis Budenz - was first a communist leader in the United States, then a leading anti-communist witness for the FBI in numerous cases against Soviet agents. Louis Budenz was from Indianapolis. He said he was a family friend of Ruby before either of them joined the party. Budenz recruited Ruby Weil for the task of introducing Sylvia Ageloff to Trotsky's eventual assassin. Budenz says neither he nor certainly not Ruby knew for what purpose they were acting. They were told that their actions were to prevent a Trotsky plot against Stalin's life. Ruby in fact was reluctant and had to be coaxed. Living in New York, befriending known Trotskyists, a complaint was lodged against her apparent disloyalty by fellow Communist party members. Ruby tried to back out, according to Budenz, "Men Without Faces", 1950, but she was persuaded. She carried out her assignment to introduce Sylvia Ageloff to the Spaniard Jacques Mornard in Paris. Ruby was upset, according to Budenz, that such elaborate and mysterious plans were being made without her knowledge of why she was involved. Two years later, after the assassination, her name surfaced immediately when the police asked Sylvia Ageloff how she met Mornard. Even then, according to Budenz, she tried to return to the Communist party, but was denied. She had been used. That is why Ruby Weil is mentioned in every book on the Trotsky Assassination. She was an unknowing but effective accomplice.
Ruby Weil's 1920 Yearbook - Central High School, Evansville, In.
Emil Weil - Ruby's father
The Shameful Years - 1952, Louis Budenz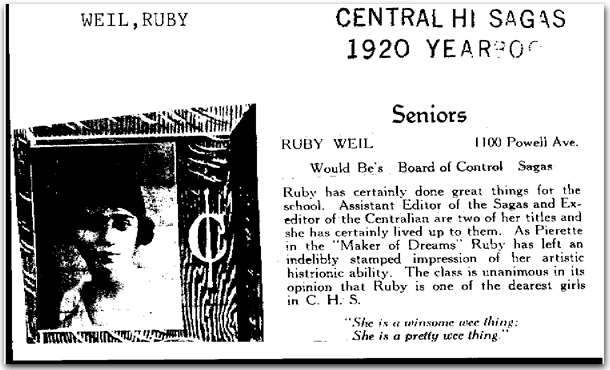 Ruby Weil and Henry Schnautz went to the same high school, although Ruby was 7 years older (Ruby '20, Henry '27). Ruby lived in the city, and Henry lived in the country approximately 12 miles from downtown Central High School. Still Henry was active in the Evansville socialist party and he apparently knew of her. After the Trotsky assassination Henry Schnautz wrote to Joseph Moore, Episcopal pastor in Evansvile, asking him what he knew of Ruby Weil. Moore was very active in liberal Evansville politics. Moore knew A.J.Muste (See the Malone letter). Muste was a pacifist preacher who started the American Worker's party that Budenz, Ruby and Sylvia Ageloff and possibly Henry had been members. The Trotskyists merged with the AWP and soon after split again, taking some members like Sylvia with them and others like Ruby not with them.
In his reply, Moore tells Henry what he knows about Ruby Weil and her two sisters, all apparently known to him, one of them still living in Evansville. The sister in England is named Corinne. Ruby Weil and Sylvia Ageloff had stopped to see Corinne before they went on to Paris and the meeting with Jacques Mornard. Apparently only Ruby was involved, and she did not know much. Claire Adler who Moore mentions was named by a witness in a much later 1948 House Un-American Sub-Committee hearing held in Evansville as a result of the Bucyrus Erie strike as a communist party operative in Evansville.
Reverend Joe welcomed home, Evansvile Press oct 3 1982
http://local.evpl.org/views/viewimage.asp?ID=985432
---
Sept 9, 1940
Dear Henry:
Ruby Weil has worked for the Daily Worker for almost 5 years, but has probably been a Stalinist for a longer time. Corinne her sister in England was probably not a party member while in this country. Sam still thinks of her as a parlor pink, as he says.
I met her husband, who does a little writing on the side, and he did not impress me as having any great interest in Marxist economics at the time. If I find anything to the contrary I'll let you know.
As for checking on Ruby, I can't do much about it until November when I plan to go to Washington. If you do not have full information on this woman by that time let me know and I'll try to get to New York.
Her sister in Evansville is Claire Adler's best friend. They work together on everything - I think you understand.
The world has lost a clear thinking, honest and brilliant man. His death is not in vain however, since from his ashes will arise the inspiration and force which will dedicate many more men and women in his cause - the service of all mankind, everywhere.
J.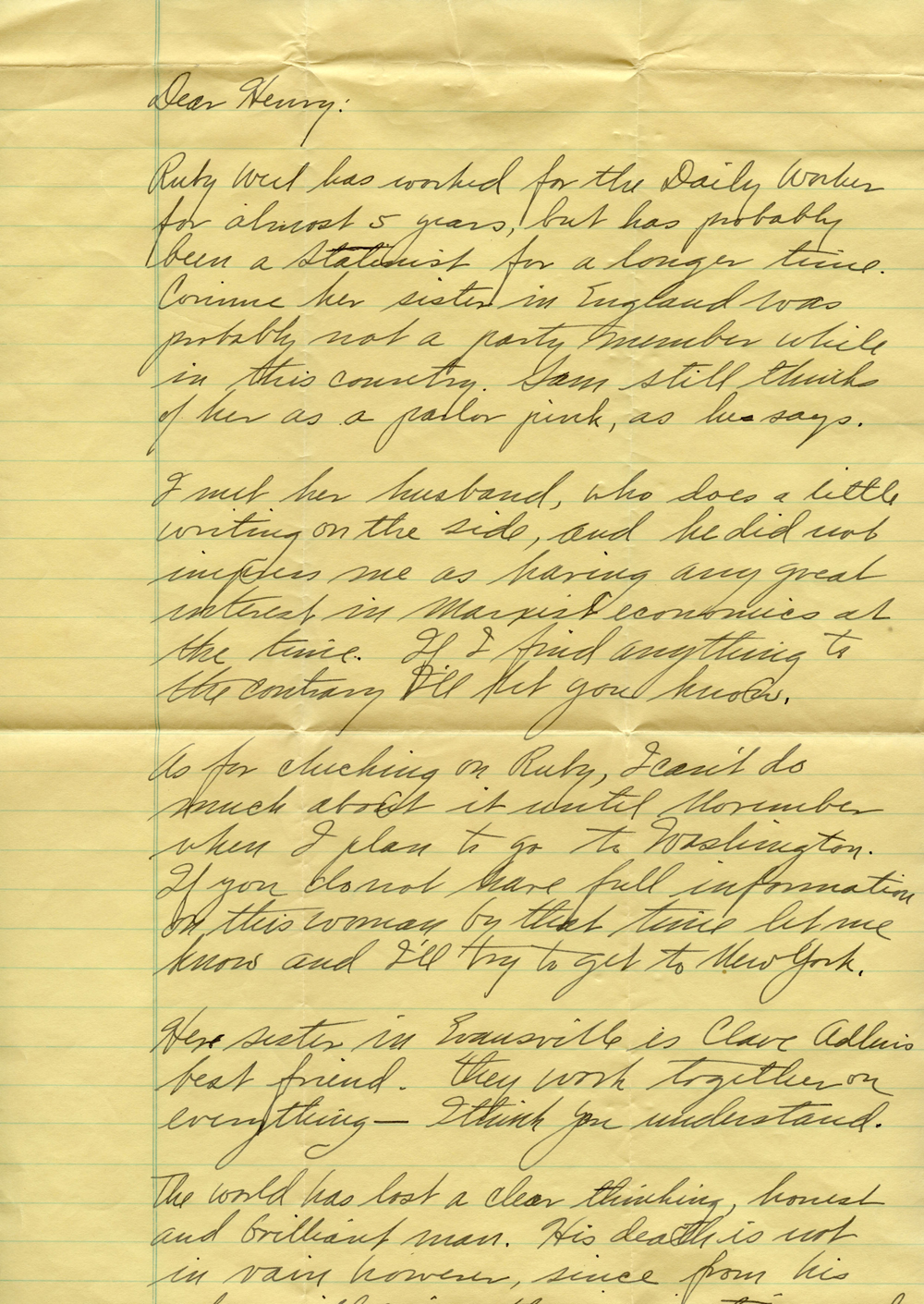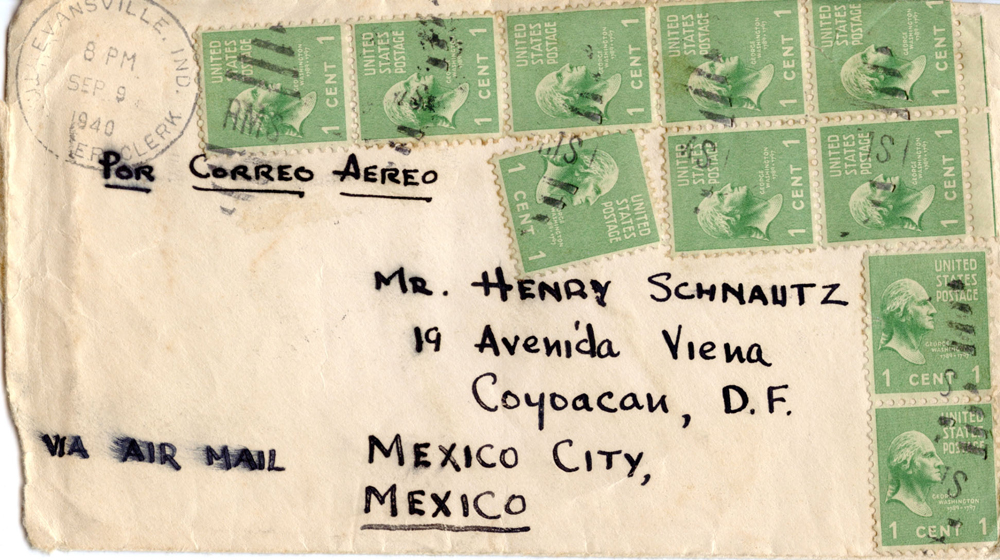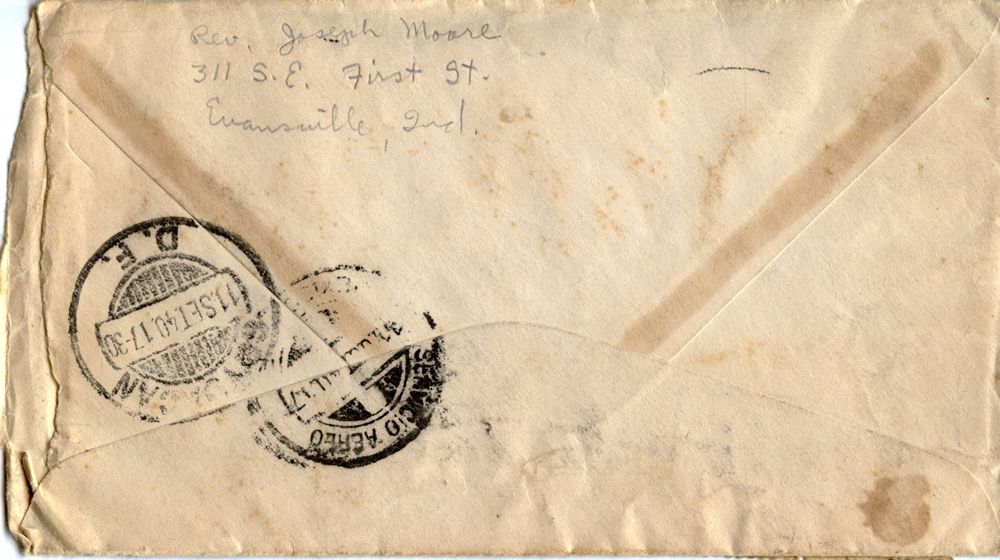 ---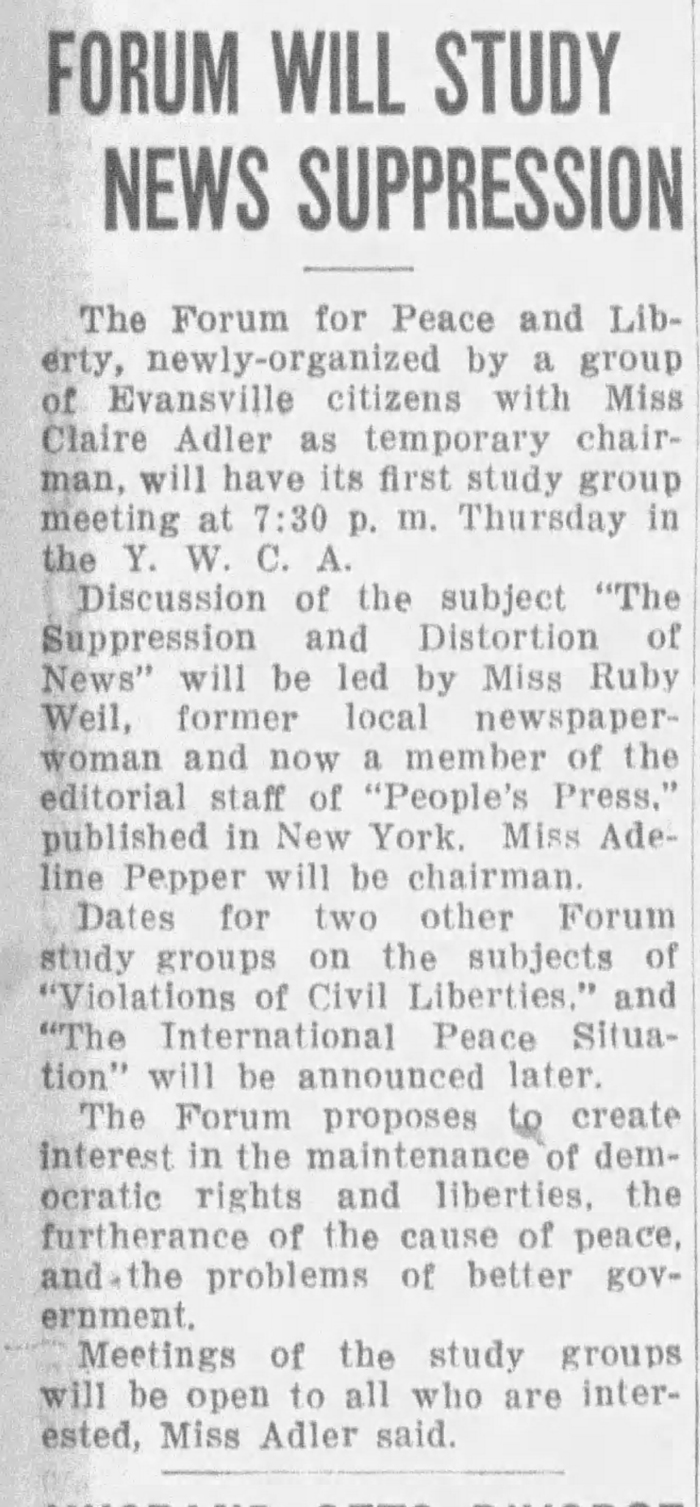 Evansville Press Oct 13, 1936