Letter to Cecile and Emmanuel Jr.
During the war somewhere in Europe Henry met a willing farm girl and they became lifelong friends, exchanging letters until Cecile wrote her last sometime in the 1990s. In 1975, Henry got a letter from her son asking about Trotsky. All I have is a draft letter, but its the only written description where Henry describes the day of the attack on Trotsky. Henry writes a few sentences. Wiesenstrasse is on the north Germany coast of the Baltic sea
Henry's account differs from other printed accounts. Patenaude in his book says Jacson drove up about 5:20 p.m. Hansen in his account says he was on the roof and he buzzed him in. It's possible Henry 35 years later is remembering a different time that Jacson (Mornard) came into the compound.
---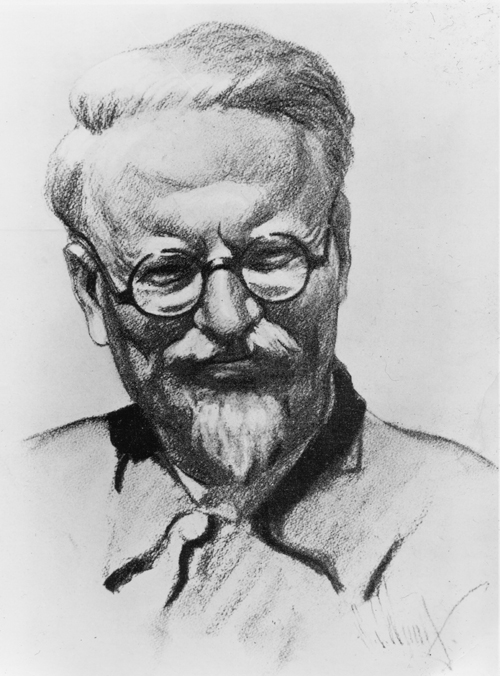 Sun. Feb 2, 1975
Dear Cecile and Emmanuel Jr.,
25 years! It seems only yesterday that our company was billeted on Wiesenstrasse. And a few moments ago I received a picture of a very small (but very handsome lad) who was called Emmanuel. Perhaps I've been asleep? Now he writes a letter in perfect English!
I have not written sooner because I wanted to send some color transparencies. Usually it takes 2 weeks to have them duplicated. This time it has taken four weeks. Three pictures are of the outside of the home in Coyoacan, Mexico (a suburb of Mex. City). The other 3 are of the garden inside the walls. The young man standing beside L.D.'s tomb (Leon Davidovich) is his grandson. Until 3 years ago the grandson still lived there, now the Mex. govt. has taken it over as a museum, I believe.
I am enclosing some photos of L.D. and a photostat of the last guard roster. In 1940 I had not heard of E.S.P. (extra-sensory perception) but that Tuesday morning when we met to discuss our shifts, for the week ahead, almost every man there felt extremely uneasy and several said, "It will come today." They thought the next attack would be like that of May 5 (actually it was May 24) when 22 men in police uniforms (led by the painter Alfaro Sequieros) had killed a guard and machine-gunned the place. They threw 2 fire bombs into the house.
I rather expected that they'd fly over very low in a plane and drop a big bomb, destroy the whole place with several howitzer shells - or perhaps explode a mine under the building after having first dug a tunnel beneath it.
Walt and I had been on duty when J.Monard (Mornard) , the assassin, arrived. Walt let him into the ante-room, gave me the signal, and I (in the corner tower) opened the garden gate by remote control. This was about 2:40. At 3:00 I was relieved, went to my room and was writing a letter to my sister. I had just written these words "I've never felt so depressed in my life" --[she saved the letter] when I heard a horrible bellowing scream - Monard had struck L.D. with the Piolet he had concealed in his raincoat (he had cut the handle very short).
I am pleased that your English is so polished and am particularly gratified that you are interested in Trotsky. The pencil sketch shows what he was like - and shows his intelligent, humorous, kindly disposition as well. Since I don't know whether your interest lies in his political theories or his personality, I can't recommend any books.
Pioneer Publishers, New York N.Y. have all his works in English plus the account of the assassination etc. I do not have any of the books myself, I loaned and lost them. I believe that you can get almost as much (possibly more) in French from Mlle. Nicole Espgnol, 125 Rue Caulaincourt 75 Paris 18.