The Unauthorized and Authorized Spanish Editions of B. Traven
Pedro Geoffroy Rivas
Stamp honoring Pedro Geoffroy Rivas issued in El Salvador in 2005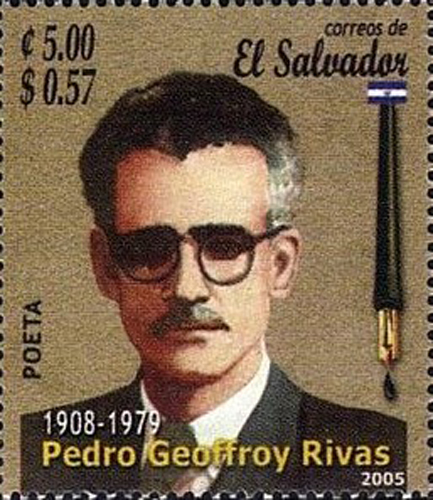 Rivas was born in El Salvador in 1908. He was an influential poet, anthropologist and linguist. He had a long, eclectic and distinguished career. Already a published poet in his 20s, he graduated from law school in Mexico City in 1937 or 1939. His thesis was titled "Marxist Theory of the State". He did at least 5 translations of Marxist titles in the later 1930s. One of these was for Editorial Masas in 1938, the publisher Esperanza worked for. That is per the scholar Sebastián Rivera Mir.
Sebastián Rivera Mir - The beginnings of Ediciones Frente Cultural (EFC). From Marxist theory to successful business (1934-1939)

In 1938, for Editorial Masas, the Salvadoran translated "On Literature and Art," a selection of texts by Marx and Engels, produced by the Frenchman Jean Freville. This publishing house, linked to communism, launched the collection "Los Grandes Textos del Marxismo" during this period, and was closely related to members of LEAR, especially the Cuban Juan Marinello.
Rivas was a prolific and respected translator of both German and French to Spanish.
Sebastián Rivera Mir -

...perhaps one of the most important translators for the (Ediciones Frente Cultural) publishing house, was Pedro Geoffroy Rivas, who undertook the task of translating "Los Origenes de la Religión" de Lucién Henry, published in 1937, into Spanish. This Salvadoran exile, while working on this book, was also doing his law thesis at the National Autonomous University of Mexico and dedicated himself to writing poetry, for which he would later be known.

... beyond the conflicts generated by his poetic perception of Marxism, Geoffroy Rivas translated at least five important books on Marxist theory between 1935 and 1939. The first (was) Jean Baby's "Historical Materialism." Regarding this book, the leader of the PCM (Mexican Communist Party), Gastón Lafarga, stated in his bibliographical criticism section of El Machete that: "The translation is clean and precise. The brochure can be disseminated among History teachers and students, who want to apply the method of historical materialism in the interpretation of the evolution of humanity." In addition, he congratulated the translator for his extensive knowledge of Marxism.
Also in 1938, Geoffroy Rivas published an unauthorized translation from German to Spanish of Traven's "Rebelion de los Colgados" (Rebellion of the Hanged) for a previously unknown publisher Ediciones Insignia. Only one other Ediciones Insignia text is known ("La Insignia," a poem by Leon Felipe on the Spanish Civil War) and Rivas is credited on the endpapers as having been in charge of printing at Talleres Graficos de la Nacion. Editorial Cima re-published Rebellion in 1940. Rivas published his translation of "La Rosa Blanca" in 1940 for Editorial Cima. All editions listed the author as "Bruno" Traven on the cover.
Apparently the 1938 edition of Rebellion had a foreword written by Rivas in which he speculated on the true identity of B. Traven. This elicited a letter from Traven expressing his non-appreciation and then Rivas had another introduction in the 1940 edition of Rebellion. Neither of those are available to me, but I found a snippet of the 1940 Rosa introduction and Sebastián Rivera Mir has written about the exchange.
From Geoffroy Rivas 1940 introduction to the pirated spanish translation "La Rosa Blanca" -

LA ROSA BLANCA, another work by Bruno Traven, about one of the most characteristic episodes of the struggle for oil in Mexico that, like other novels by Traven, due to the somewhat incomprehensible attitude of the author, is almost forbidden for the Mexican and Spanish-speaking reader in general… We are convinced that Mr. Bruno Traven, who with so much prejudice for the intellectuals of Mexico, always refused to benefit us with his direct presence, will fully understand that our only wish was to put worthily in the hands of Mexicans something that is very much theirs, and that immortalized one aspect, among many, of the painful march of the Mexican Indian in the era of the bloody expansion of world capitalism..."
Sebastián Rivera Mir - The beginnings of Ediciones Frente Cultural (EFC). From marxist theory to successful business (1934-1939)

With whom Geoffroy Rivas did have problems and publicly was with a then little known and enigmatic German writer, B. Traven. The Salvadoran decided to undertake the task of translating the book "La Rebellion de los Colgados" into Spanish, something that did not please the German. This process was not without controversy and we can take advantage of this debate to understand what the translation process meant for these actors. In the introduction to this book, the Salvadoran dialogues with an alleged letter that B. Traven sent insulting "someone" who tried to publish one of his books without his permission. In addition, in that same letter the writer said that he did not believe it was necessary for his work to be known in Mexico. Geoffroy Rivas replies: "I have tried to imagine what Martín Trinidad [the protagonist] would have said about this Traven-Patron who feels robbed when someone wants to reveal his treasures..." The possibility of translating was not an act that was subject to property rights, on the contrary, it was a duty to society and the transmission of culture.
Someone, maybe Rivas, stuck Traven with the name Bruno, which says without another word that Traven is German. Patrón translates as something more than a simple boss - an owner or landlord - so that Rivas is commenting on the irony of this Traven-Patrón who wrote 6 novels of the revolution against the property class - tierra y libertad - and now defends his own. Rivas may have landed a blow here that caused Traven to start the process of official Spanish translations.
Editorial CIMA - Pirate Publisher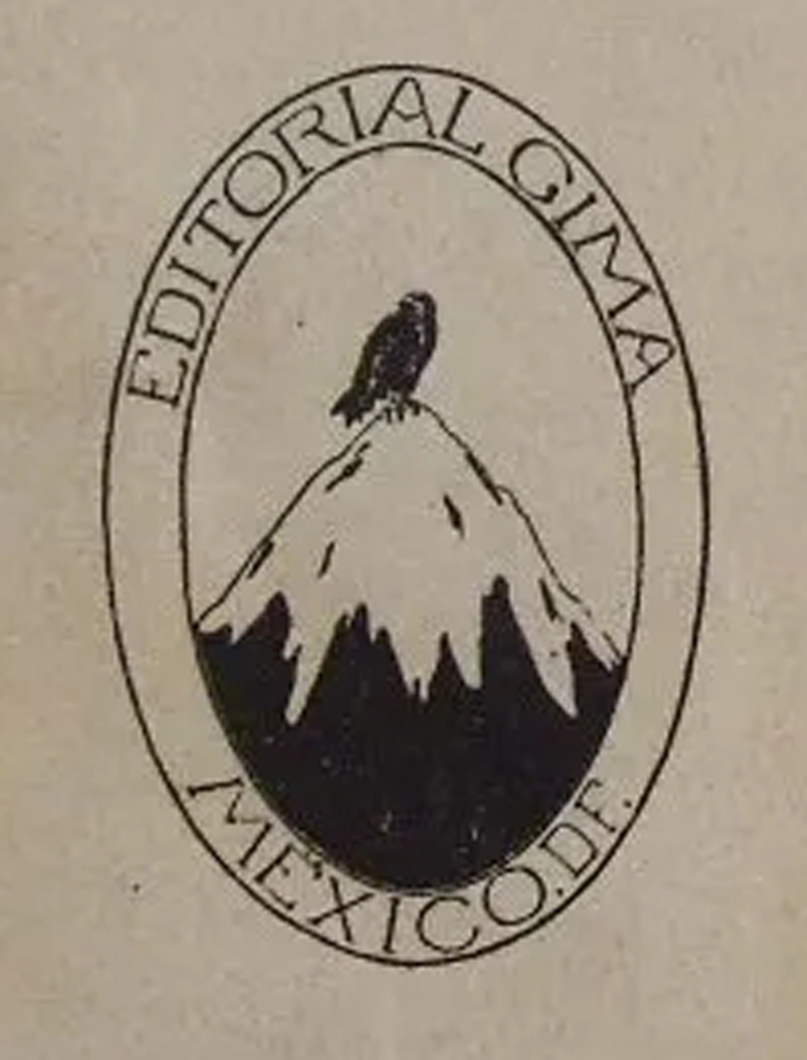 CIMA means summit. Besides the pirate Traven translations, I found less than 12 CIMA titles, one was 1939, the rest were 1940 and 1941. All had very similar covers, no graphics that I could tell. CIMA seems to be associated with the Spanish civil war refugees with several French authors. The mountain summit theme is reminiscent of something that Esperanza might be involved with, also the French translations.
Rebelion and Rosa were both translated from German to Spanish by Pedro Geoffroy Rivas and Lia or Lya Kostakowsky. Kostakowsky is the daughter of Jakob Kostakowsky, a Russian composer and violinist, emigre from Germany. He was a member of LEAR. Her sister is a famous Mexican artist Olga Costa married to also famous artist Jose Chavez Morado, member of LEAR, who did illustrations for an Editorial Masas title. Traven notes in his introduction to the authorized Spanish version of "Puente en la Selva" that neither of these translators, Rivas or Kostakowsky, are Mexican nationals.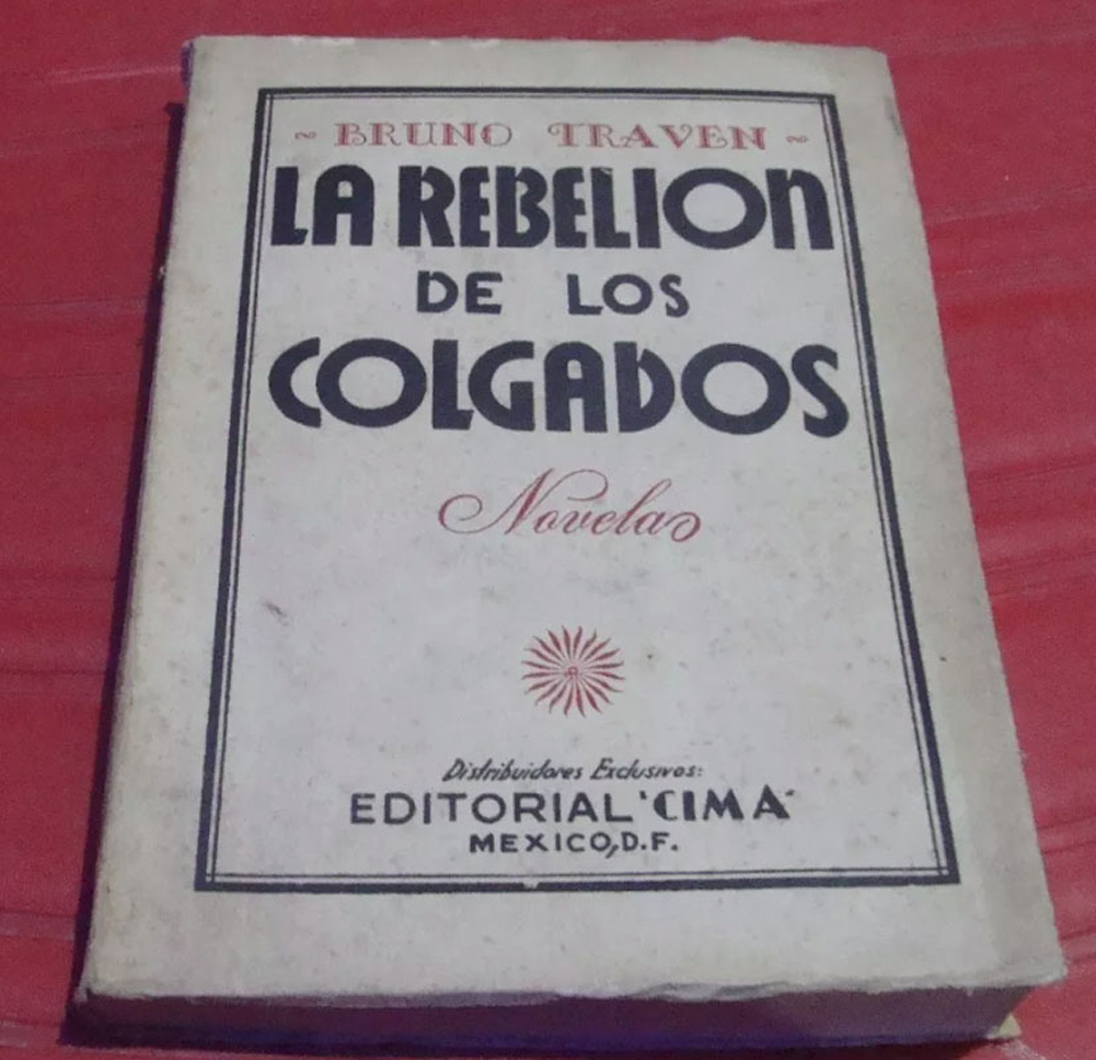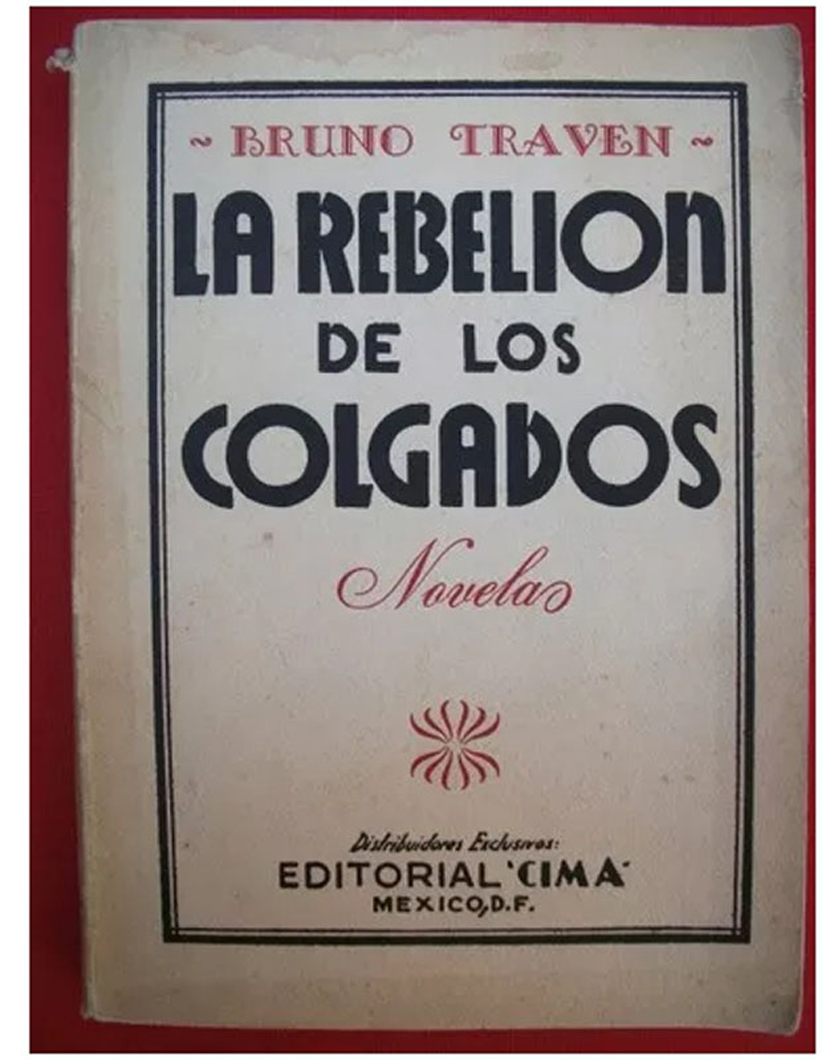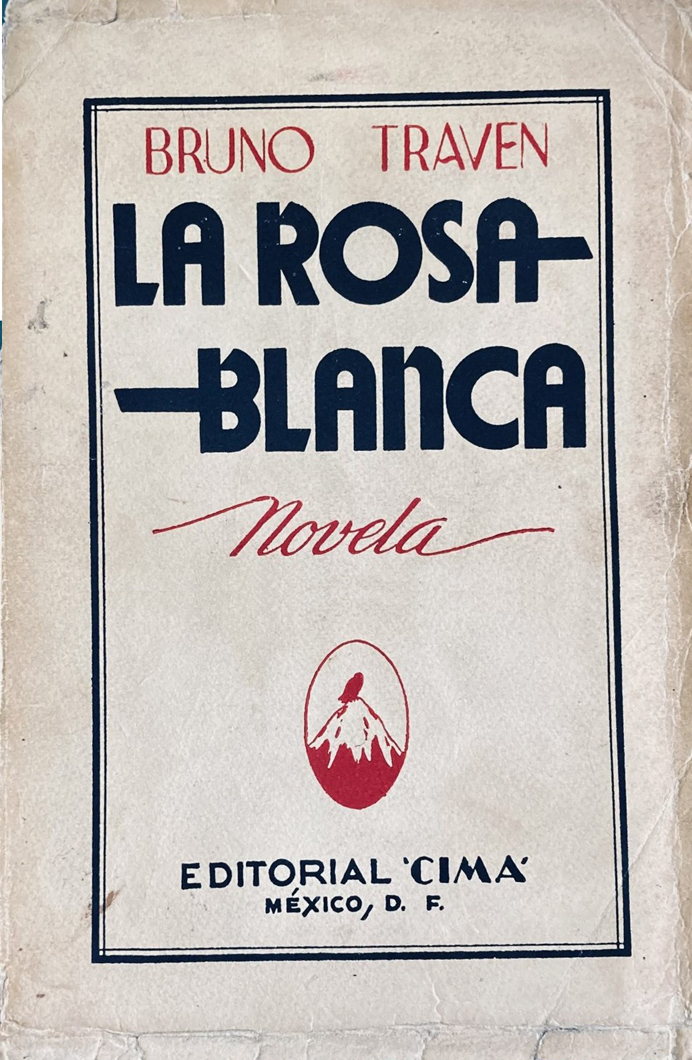 Puente en la Selva
Puente en la Selva (Bridge in the Jungle), B. Traven, A.P. Marquez Ediciones, 1941, Mexico, 355pp. Trans from English to Spanish by Esperanza Lopez Mateos
In April 1941, B. Traven publishes his first authorized Spanish translation, "Puente en la Selva". Esperanza has a prominent logo and translation credit, from English, on the title page. The endpapers say the edition was printed at Talleres Graficos de la Nacion. The illustrator is Gabriel Fernández Ledesma.
The first contact between Esperanza and Traven, we are told, was when she wrote to his publisher on Editorial Masas letterhead in 1939, a year after she probably worked with Rivas and a year after he published his first pirate edition of Traven.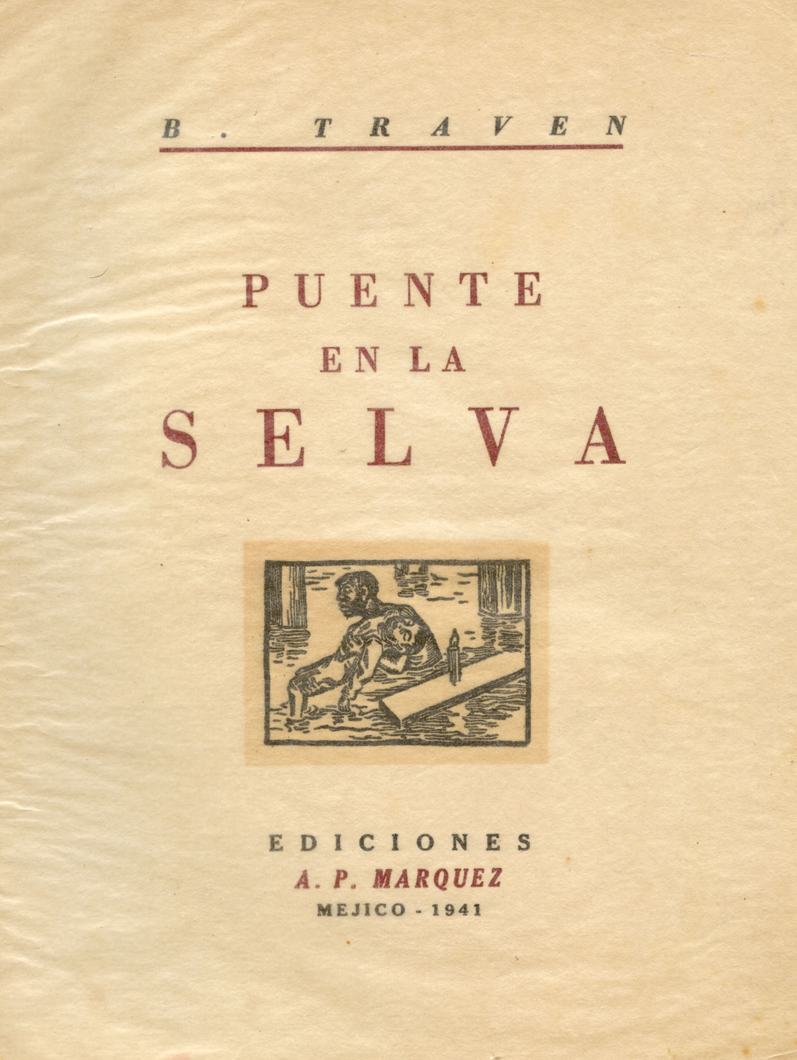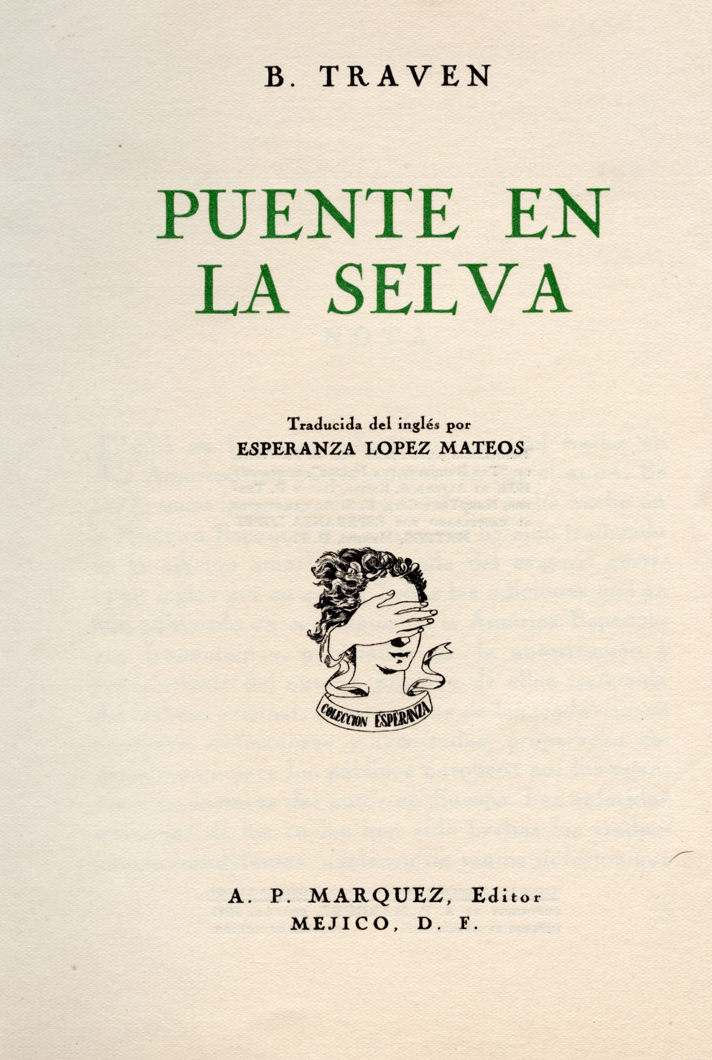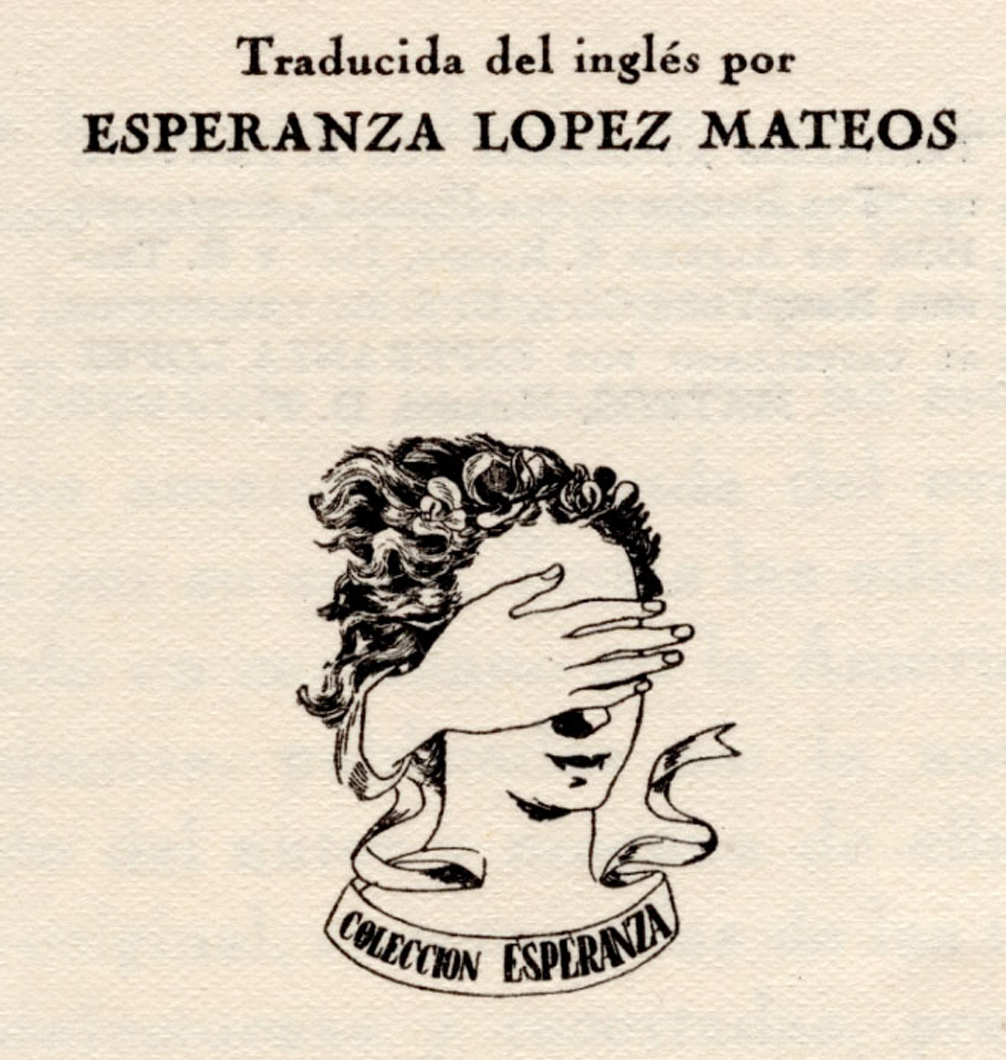 From the introduction to "Puente en la Selva", B. Traven, A.P. Marquez Ediciones, 1941, Mexico,-

This is the only Spanish edition made in America that has been approved by the author. It is therefore the only legal edition that has been made in Spanish America and the only one that has been translated from the American edition taken from the original written in English by its author. All the editions that have been published in Spanish in Spanish America are fraudulent, published without the authorization and knowledge of the author and none of them translated from the original work, but taken from European translations, defective and cut, prepared especially for European audiences by the author's agents and translators in Europe. The aforementioned editions from which the fraudulent translations have been made, suffer from so many defects that the author's German publisher, formerly residing in Berlin and currently in Switzerland, has decided to obtain a new translation made directly from the original written in English. Some of these correct translations from English into German are currently on sale in Switzerland.

As "pirate" editions: fraudulent, unauthorized and riddled with defects as regards wording, meaning, significance, as well as having been cut out of all reason and having had introductions added in which fantasies and falsehoods about the true name and nationality of the author are set forth, the following may be mentioned in particular:

LA REBELION DE LOS COLGADOS, translated by Pedro Geoffroy Rivas and Lia Kostakowsky (neither of them of Mexican nationality), which was published in pieces by "El Popular" and in a book by Editorial Cima, of Mexico City.

LA ROSA BLANCA, translated by Pedro Geoffroy Rivas and Lia Kostakowsky, published in pieces by "El Nacional" and "Ruta" and in a book by Editorial Cima, of Mexico City. The original work contains approximately thirty thousand words more than those contained in the fraudulent edition. In the original the author never refers to Mexico, but to a Republic of the South.

EL BARCO DE LOS MUERTOS, translated by Alfred Kahn y Kaplan, published by Ediciones Imán, Buenos Aires, Argentina, cut by approximately fifteen thousand words.

A BRIDGE IN THE JUNGLE, translated by Alfred Kahn and Kaplan, published by Ediciones Imán, Buenos Aires, Argentina.

The author asks the Spanish-American public not to make any judgment about him, his work, his style, his ideas and opinions, through the fraudulent editions mentioned above, as he is not responsible for their incorrectness and inaccuracy."

B. TRAVEN, is a native of the Western United States of America, the son of Native Americans of Norwegian and Scotch descent respectively. He has just turned forty, and writes all his books in English. His first name is not Bruno, a name given to him by the communazis to whom the generous governments of Mexico and Argentina have given refuge. The author has no connection with those people, does not share their ideas or their creeds and regrets that some details, not foreseen in the laws that protect the rights of authors, both in Mexico and Argentina, have made possible the unfortunate presentation of his works that has been carried out.

TO THE MOTHERS:
Of every nation,
Of every people,
Of every color,
Of every race,
Of every creed,
Of every animal and bird,
Of every creature that lives on earth.