Esperanza's political connections and activism in the late 30s and early 40s
Heinrich Gutmann founded Editorial Masas in 1937. He founded Liga Pro Cultura Alemana in early 1938. Editorial Masas and Liga Pro Cultura Alemana shared the same post office box. Esperanza worked for both organizations. Gutmann claimed (Pohle seems to doubt this) to have been an editor in Germany of Vorwarts, which was an early Traven publisher. Traven later complained that Gutmann spread the story in Mexico that Traven was the German Ret Marut. Gutmann employed Esperanza Lopez Mateos at Editorial Masas in 1939 (and possibly her mother according to Figueroa). It was on Editorial Masas letterhead that Esperanza famously inquired of the NY publisher Knopf about movie rights for Traven novels. Lombardo Toledano worked closely with Liga Pro Cultura Alemana, often being its keynote speaker. Esperanza was the stenographer for the 1938 LPC series of lectures.
Between 1938 and 1940 pirate editions of Traven novels translated from German to Spanish appeared for the first time in Mexico. The translator Pedro Geoffroy Rivas had also translated a manuscript by Marx and Engels that was published by Editorial Masas.
The pirate Traven editions listed the author as "Bruno" Traven, a provocative name Traven surely never used and which says succintly the author is German.
Editorial Masas and Liga Pro Cultura Alemana both exist only between 1937 and 1940, about the time Toledano shifts his attention to the big wave of well known German emigre writers expelled from Europe.
Kießling, Wolfgang, "Brücken nach Mexiko", Dietz Verlag Berlin, 1989, p.243
"In the summer of 1938, Liga Pro Cultura Alemana en Mexico self-published its first publication in 5,000 copies. The brochure "La Verdadera Cultura Alemana" contained more than 100 pages of the texts of the previous cycle of lectures. The stenographic transcriptions were by Esperanza Lopez Mateos..."
The earliest known reference to a professional relationship between Esperanza and Lombardo Toledano is from 1938. The Liga Pro Cultura Alemana convened a series of lectures from April 23, 1938 to June 3, 1938 of six Mexican intellectuals on the subject of the True German Culture. Vicente Lombardo Toledano led off with Goethe. A compiled book resulted. The stenographer was Esperanza Lopez Mateos (per Kießling).
1938
23 April - Vicente Lombardo Toledano "Goethe"
30 April - Rafael Sánchez de Ocaña "Heinrich Heine"
7 May - Luis Sandi "Forbidden Music"
12 May - Professor Adalberto García de Mendoza "Kant and Schopenhauer"
19 May - "Burned Literature"
Ermilo Abreu Gomez "Thomas and Heinrich Mann"
Jose Mancisidor "Stefan Zweig and the Great War Literature of Erich Maria Remarque, Ludwig Renn and Arnold Zweig"
3 June Enrique Gonzalez Aparicio "Hegel, Marx and Engels" (German economists)
The Letterhead on p. 236 of Kießling
In a letter on Liga Pro Cultura Alemana en Mexico letterhead, just a few days after the La Verdadera lectures begin, April 30, 1938, addressed to Lombardo Toledano, the address is Apartado 8092.
apartado is post office box. 8092 is the address for both Liga Pro Cultura Alemana and Editorial Masas
Guthke, Karl, "B. Traven, the Life Behind the Legends", Lawrence Hill, 1991, p.321
Guthke has a letter dated August 1939 from Esperanza in his photos section. It is allegedly by all accounts the first contact between Esperanza Lopez Mateos and B. Traven. The books in question are the same ones that Traven will eventually complain have been made into unauthorized Spanish translations in the introduction to his April 1941 edition of "Puente en la Selva," translation by Esperanza. Here Esperanza mis-translates them into English because she probably has the spanish pirate versions translated by Pedro Geoffroy Rivas, who has also translated a book of texts by Marx and Engels into Spanish for Editorial Masas.
The address --
Donceles 30
Apartado 8092
Mexico, D.F.
She signs her title "Manager"
In the book Todo Mexico, "La Mirada que Limpia," Elena Poniatowska, Editorial Diana, 1996, Gabriel Figueroa says,
"Esperanza managed a small publisher with her mother, Editorial Masas, S.C.L. later called Compania General de Ediciones, S.A. in a small house at 30 Donceles."
Editorial Masas, founded by Enrique Gutmann, possibly funded or at least helped by Toledano, is a small publisher in the period 1937-1939. Compania General de Ediciones appears to be a larger company that published a lot of Traven titles and other authors, some in Esperanza's lifetime, and many long afterward, but I dont see any direct tie to Esperanza.
Many sources talk somewhat vaguely about Esperanza's political activism, even as to how it recharged Traven when they met. (Guthke ##) . Gabriel Figueroa who was politically active himself, said that Esperanza awakened in him the social conscience. (Memorias p.83).
Figueroa makes a strong statement about Esperanza's commitment to social justice on p. 89 of Memorias (my translation) and says Esperanza's relationship to Lombardo Toledano pre-dated his own.
"I knew the teacher Lombardo Toledano by means of Esperanza, who was his collaborator and she went to all the conferences, meetings and acts that he participated in, to transcribe his speeches. He had a lot of respect for her, because Esperanza was a militant with much confidence, who had worked all her life in the social field. The relationship with her connected me to Lombardo, and he began this way to ask me to participate in the production of several documentaries and movies."
Searching ABEBOOKS for Editorial Masas, I found a few. The bookseller Isla Galeria helpfully included an image of the Masas Logo. It also uses Apartado 8092. Its a great uncredited logo.
The bookseller Libreriá Urbe has a copy of Canto Para Soldados by Cuban poet Nicolas Guillen that they have included an image by the illustrator, the famous mexican artist José Cháves Morado. Editorial Masas was associated with the artist organization LEAR.
In 1938, Pedro Geoffroy Rivas published a translation of some texts by Marx and Engels for Editorial Masas and also an unauthorized translation for a previously unknown publisher Ediciones Insignia (probably the forerunner of Editorial Cima) of B. Traven's "The Rebellion of the Hanged" from German to Spanish. Editorial Cima re-published Rebellion in 1940. Rivas published his translation of La Rosa Blanca in 1940 for Editorial Cima. All editions listed the author as "Bruno" Traven on the cover. Only one other Ediciones Insignia text is known (by me) and Rivas is credited on the endpapers as having been in charge of printing at Talleres Graficos de la Nacion.
Pedro Geoffroy Rivas was a Salvadoran, at the time a law student, a published poet. He had translated 5 Marxist texts between 1935 and 1939. His work was well respected. He would have a long and distinguished career.
Sebastián Rivera Mir - The beginnings of Ediciones Frente Cultural (EFC). From marxist theory to successful business (1934-1939)
"With whom Geoffroy Rivas did have problems and publicly was with a then little known and enigmatic German writer, B. Traven. The Salvadoran decided to undertake the task of translating into Spanish the book "The rebellion of the hanged", something that did not please the German. This process was not without controversy and we can take advantage of this debate to understand what the translation process meant for these actors. In the introduction to this book, the Salvadoran talks with an alleged letter sent by B. Traven insulting "someone" who tried to publish one of his books without permission. In addition, in that same letter the writer said that he did not think it necessary for his work to be known in Mexico. Geoffroy Rivas replies: "I have tried to imagine what Martín Trinidad [the protagonist] would have said about this Traven-Patrón who feels robbed when someone wants to make known his treasures ... ( Traven, 1938, p. 5)". The possibility of translating was not an act that was subject to property rights; on the contrary, it was a duty with society and the transmission of culture."
The way I read this, this is probably Rivas' prolog in the 1940 edition, after a letter received from Traven in reaction to the 1938 edition. Patrón translates as something more than a simple boss - an owner or landlord - so that Rivas is commenting on the irony of this Traven-Patrón who wrote 6 novels of the revolution against the property class, tierra y libertad, and now defends his own. Rivas may have landed a blow here that caused Traven to start the process of official Spanish translations.
In April 1941, B. Traven publishes his first authorized Spanish translation, "Puente en la Selva". Esperanza has a prominent logo and translation credit, from English, on the title page. The endpapers say the edition was printed at Talleres Graficos de la Nacion. The illustrator is Gabriel Fernández Ledesma.
Traven's introduction complains about previous pirated Spanish editions and names names. Specifically he complains about Rebelion and Rosa Blanca both translated by Pedro Geoffroy Rivas and Lia Kostakowsky and published by Editorial Cima and serialized by El Popular in Mexico. He does not mention Toledano by name but El Popular is his paper.
As far as I know, no other Traven book carries an introduction. The introduction says Traven is American and his name is not Bruno. The dedication is to mothers everywhere of all kinds. His new found translator and business partner is on the title page.
Traven claims that the Rivas' translations are made from the German which are not in the original English and so many errors were made by the European translators that he is not responsiblie for the inaccurate results. For instance he says, in the original the author never refers to Mexico, but to a Republic of the South. In additon the fraudulent pirate Spanish versions have an introduction full of falsehoods about the true name and nationality of the author.
Traven is an American, he says, just turned 40, of Norwegian and Scottish parents. He writes all his books in English. "His first name is not Bruno, name given to him by the communazis to whom the generous governments of Mexico and Argentina have given refuge." (Traven also complains about Argentine editions i have not covered here.)
Esperanza is 34 years old (we know now) when this book is published.
In 1941 when Henry Schnautz meets Esperanza for the first time, she is working for the Secretary of Public Education, SEP, under new president Manuel Avila Camacho. I dont know when she got that job or when she left (this letterhead is from 1943). During the Cardenas years the ministry was a center for the leftist programs with Toledano a strong influence, but it began moving to the right after the 1940 election.
The minister in 1941 is Octavio Vejar Vazquez. In 1942 he was involved in a fight to eliminate marxist ideology from Mexican schoolbooks.
He eventually resigned December 1943 over differences with Lombardo Toledano.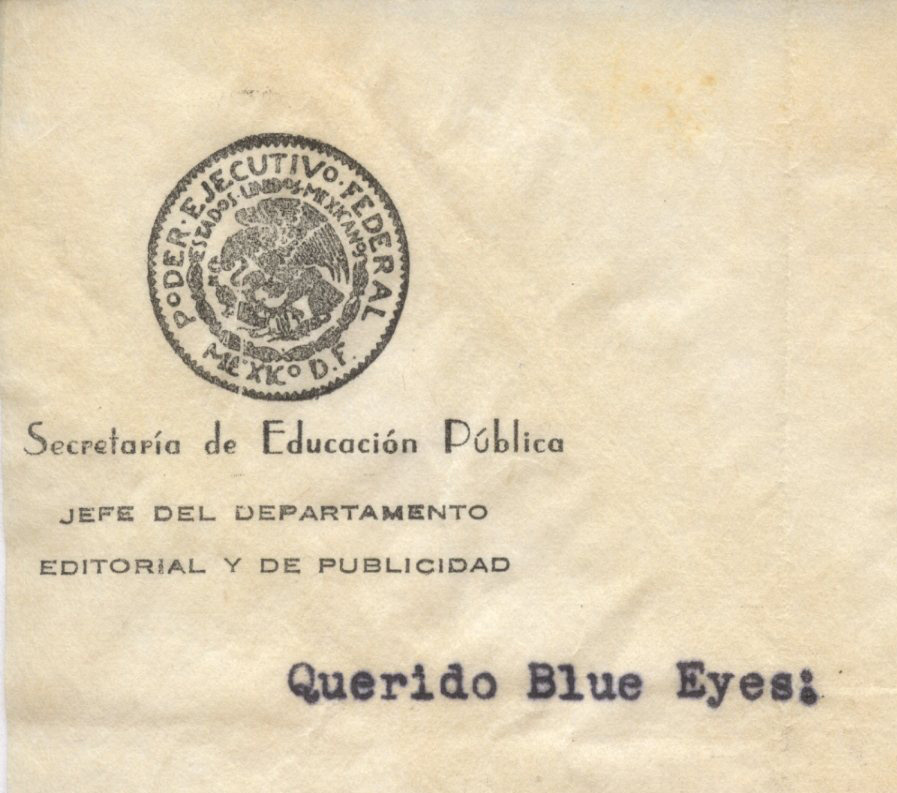 Henry Schnautz, Trotsky guard, at this time a guard for Natalia Trotsky, meets Esperanza, June 1941, says he met Esperanza first time on his (not her) initiative. He also talks about conflict over school texts.
letter 1941-8-11 --
(Esp) gets in dept. of Education (after Hospital job) as secy. to Secy. perfects her shorthand typing etc. gains in worldly wisdom - as to what makes politics etc. Is official stenographer at numerous union Congresses etc. learns what goes on before the speeches are made - and how speeches are changed before being sent to press. With recent change in administration learns what "nepotism" and "sinecure" signify, discovers that new Secy. of Ed. has publishing house (remember Bobbs Merrill and Gov. McNutt) prints new texts - cost 7 cents are sold at $1.25. She fights but opposition - i.e. - 11 at top of racket stand to win $1,500,000 in sale of new texts - tough going - enter Henry in office asking for course of study for summer school for Elda (a friend from home going to school in Mexico City)
I bought a used copy of "Brucken nach Mexiko", Wolfgang Kiessling, Dietz Verlag, 1989.
The dust jacket has a photo of a speech by Vicente Lombardo Toledano, the Mexican politician and marxist who had a professional relationship with Esperanza Lopez Mateos from 1938 or earlier until her death. In the front row is a woman who resembles Esperanza. Unfortunately its a half-tone reproduction, so there is not much detail. Its a great photo showing the crowd standing on the stairs.
The caption reads - Vicente Lombardo Toledano spricht bei der Veranstaltung zur Eroffnung der 2. Front (1942)
Vicente Lombardo Toledano speaks at the event to open the 2nd Front (1942)
Stalin had repeatedly asked Roosevelt and Churchill to open up a second front in France or elsewhere in Europe fearing that without it Hitler would defeat Russia being able to concentrate his forces. This of course was not accomplished until D-Day 6 June 1944 and after the Battle of Stalingrad between August 1942 to February 1943.
Mexico entered the war with Germany in May 1942.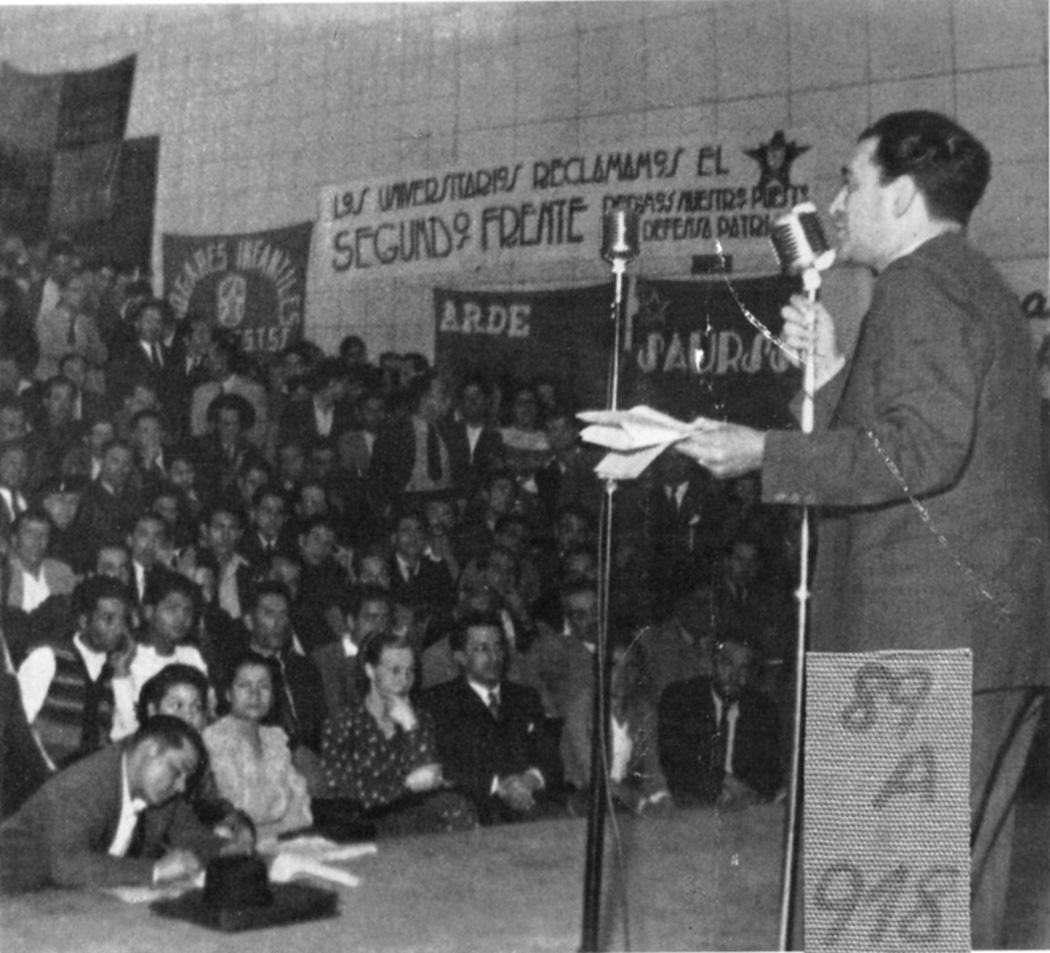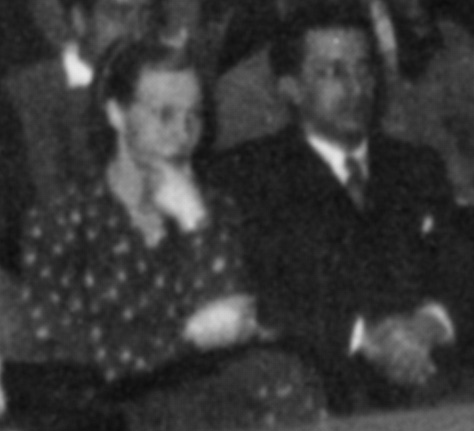 An earlier studio photo of Esperanza and a photo Henry Schautz took on vacation in 1946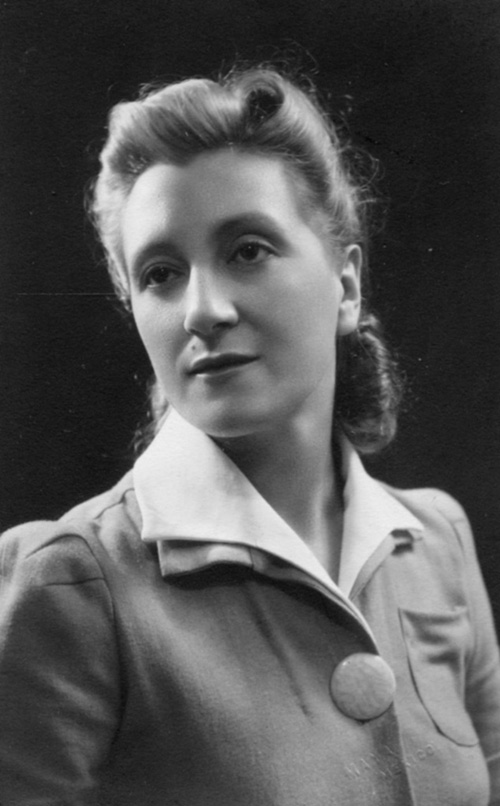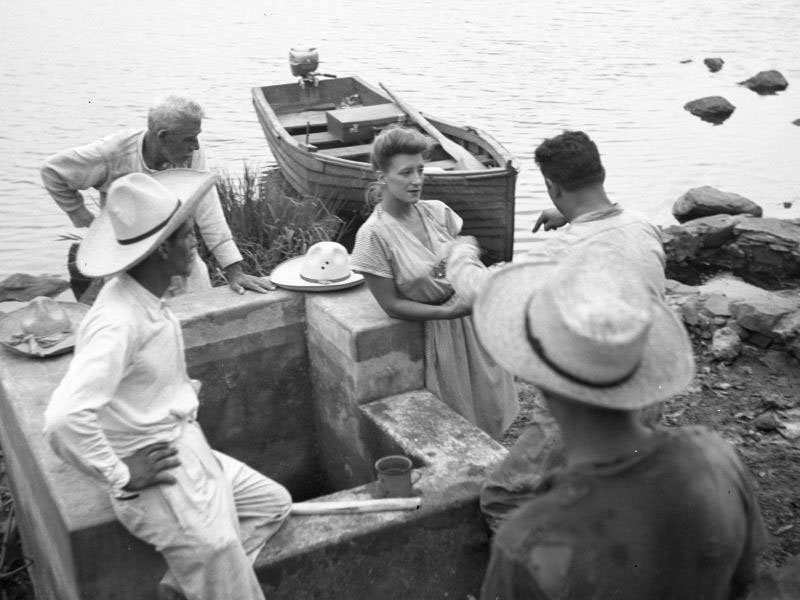 The big wave of German communist emigres arrived in Mexico City starting in 1940 when France fell to the Nazis. These included famous writers such as Anna Seghers, Egon Erwin Kisch, Ludwig Renn, and many others who had been forced out of Germany and Europe. Lombardo Toledano, "el jefe marxista mexicana," welcomed them with open arms. Just as he helped the Liga Pro Cultura Alemana and probably Editorial Masas and possibly Editorial Cima, he helped them continue their writing and political careers.
Freies Deutschland was their Antinazi Monthly magazine, published in German in Mexico City, with well known German writers.
El Libro Libre was their book publishing operation.
The Heinrich Heine Klub was their social club that organized talks and theater plays. Heinrich Heine was a 19th century German writer. His books were among those burned by the nazis, engraved on a memorial in Germany is his quote, "Where they burn books, they will ultimately burn people as well." The nazi book burning in 1933 of unapproved authors was in some respects the last call for German intellectuals to leave Germany.
As Lombardo did for Liga Pro Cultura Alemana, he lends his name and credibility to the organization.
One of the star emigres who worked closely with Toledano from his arrival in Mexico in 1940-41 was a Czech national named Otto Katz, who wrote for Freies Deutschland under name Andre Simone. Katz was one of the most successful Soviet agents of the 20th century. He had a hollywood period under the alias Rudolf Breda where he formed anti-Nazi associations and was the inspiration for the anti-nazi freedom fighter in the 1944 Academy Award movie, "Watch on the Rhine." by author Lillian Hellman.
From "Variety" March 1944, a magazine of the American film industry, appears a notice that Esperanza Lopez Mateos is translating the script "Watch on Rhine" into Spanish for a stage play. This is during the height of Katz's influence in Mexico City and possibly connected with the stage productions of the Heinrich Heine club.
The story of Katz is nearly the story of the first half of the 20th century, as he was involved wherever his propaganda talents were most needed. An excellent book is
"The Dangerous Otto Katz," Jonathan Miles, Bloomsbury, 2010
Otto Katz - Jonathan Miles - book link
Vicente Lombardo Toledano was a Stalinist-Marxist in the mid 30s to the end of the war at least. The evidence for that is extensive. An excellent essay dealing with Lombardo's all-in involvement with the famous German communist emigres of 1940 onward is
Heidi Zogbaum (2005) Vicente Lombardo Toledano and the German communist exile in Mexico, 1940-1947, Journal of Iberian and Latin American Research
Leon Trotsky was murdered in August 1940 by the Soviet apparatus directed by Stalin. In the months leading up to the attack, Trotsky repeatedly accused Lombardo Toledano of creating the political environment of assassination.
There were two attacks on Trotsky, May and August 1940, both of the accounts below were written after the first and before the second attack, both blaming Lombardo Toledano.
Trotsky's relationship to Toledano,
Fourth International June 1940
Joseph Hansen, Trotsky's chief aide,
Fourth International August 1940
Hitler and the Nazi party never won a popular election. They took control over a period of years. One of the final blows towards dictatorship was the Reichstag fire in 1933. Hitler used it to suspend individual rights and the guarantees of the German constitution. These did not return until after the war.
Prior to the trial to determine the guilt of the arsonists, Otto Katz and Willi Munzenberg, "the Red millionaire", published in France "The Brown Book of the Reichstag Fire and Hitler Terror," to major success. The book charged that Hermann Göring, who was the Reichstag president, set the fire using an underground utility tunnel from his official residence. Others took the blame. An exodus of emigres out of Germany first to other countries in Europe and later to places all over the world accelerated sharply.
The_Brown_Book_of_the_Reichstag_Fire
In Mexico, Katz, using the alias Andre Simone, repeated his success with the Black Book in 1943. Published by El Libro Libre, the publishing house was Talleres Graficos de la Nacion.
in November 1947, Esperanza wrote a letter from West 19th Street in New York (Henry Schnautz' apartment) to Gabriel and Roberto. It is in Poniatowska's book (at least the transcription, not a literal image). It is a last will and testament, "to open when I cease to be." I believe she was waiting to fly to Europe, an ambitious long trip visiting many countries.
"To you two, Roberto and Gabriel Figueroa Mateos, I want to dedicate, before undertaking this long trip, all that I possess."
at the end she addresses Lombardo
"To Vicente Lombardo Toledano tell him that if in any discussion I was violent, I treated him harshly and I sent him to the devil, that to forgive me, how well he knows how much I admire his talent, his courage and his honesty and how ten years of his struggle bound me to him with a strong affection.
If we take her literally, 10 years of relationship would date back to 1937. And she has a strong enough relationship even in 1947 to send him best last regards. The letter is not dated but the last time she was at W 19th street was Nov 1947 - Jan 1948. In Nov she was headed for Europe and in Jan she came back.
It has been written that Esperanza owned a publishing company and that she printed all the copies of Freies Deutschland and some of the titles of El Libro Libre. I don't see that. She did work at Editorial Masas, founed by Gutmann, and she did work at the Dept of Education, and had knowledge of large publishing contracts, but both of those printed at a large printing company, Talleres Graficos de la Nacion, that many publishers used, as did her own translation of Puente for A.P. Marquez. "Masas" was an office not a print shop. Figueroa says it was in a small house, a joint operation with her mother.
Esperanza was surrounded by Marxist and Stalinist influences when she worked with Liga Pro Cultura Alemana and Ediorial Masas. The titles at Masas, the very name of the company, her close association with Toledano, the premier marxist in Mexico, an undoubted Stalinist, a blood enemy of Trotsky, his trust for her to transcribe his words, leave little room for doubt.
Traven wants everyone to know he carries no water for the communazis, neither does he share their ideas. What is striking is that his translator and partner, Esperanza Lopez Mateos, is in a close working relationship with the people Traven is denouncing in his one and only introduction. The official story that Traven told of his first meeting with Esperanza which has been repeated numerous times by just about every author is unlikely to be true. Everyone should have guessed that. I am just speculating, but its more likely that Traven complained to Toledano and Toledano sent Esperanza to go talk to him. If Traven was trying to stay away from well-connected people, Esperanza was well-connected. She could be reporting to either side. She doesn't break with the people that Traven denounces.
Its an assumption, but its likely his fear of deportation is pretty much at maximum around 1940-41.
After the war, when things have settled down, Traven does an about-face and has a Stalinist outburst in 1945 or 46 detailed in Guthke starting on p. 325. He makes the claim that Stalin is the superior military tactician. Its the pure Stalinist line that he made a treaty with Hitler to buy time then appeared to have destroyed his own army during the war with Finland to tempt Hitler to invade. Its the kind of mental gymnastics Stalinists had to perform to explain why they were still Stalinists after the Hitler-Stalin pact.